Best in Texas: Smoothies
Editor's Note: Best in Texas is a review series that showcases local shops, drinks and food to determine which is the best in the area. TRL's Anna Frost kicks off the series by reviewing four different smoothie shops. 
To test which smoothie place was the best in Texas (or the Allen area), I went to four different smoothie shops. I rated them based on cost, efficiency, and most importantly, taste. I timed my experience in the shop. However, for the first two stores, I ordered during prime lunch hour, so the times might be inaccurate. I also figured out the price per ounce of each smoothie. In order to maintain the standardization of the experiment, I ordered each store's variation of a strawberry banana smoothie. 
Smoothie Factory: 
The first place I visited was the Smoothie Factory located at, 545 W McDermott Dr. The store itself was a little hole-in-the-wall shop that was clearly marketed to athletes with racks lined with different types of protein and workout gear. There was only one person working, and that might have affected the process' time. There were dozens of items on the menu including many exotic flavors. However, I ordered the "Strawberry Patch," which was their version of a strawberry banana smoothie. The small was 20 oz for $3.40, which means it was approximately 17 cents an ounce. I waited for my smoothie for almost twelve minutes, but again, this was during lunch hour, and there was only one person working. Once I received my smoothie, it was a nice, rich red color, and you can tell it was made with fresh fruit. As for the taste, it was absolutely delicious. The flavors were well balanced, and it was very cool and refreshing. Although even in the cold of my car, the smoothie began to melt very quickly. 
My rating: 
Cost: 8/10, efficiency: 3/10, and taste: 9/10, overall rating: 7/10
Tropical Smoothie Cafe:
This shop is located at 880 W Exchange Pkwy. The restaurant was very clean and well maintained. I ordered the kids "Jetty Punch." They only offered two sizes: kids and regular. The regular was very big, so I went with the kids. It was $3.49 for 12 oz, which adds up to roughly 34 cents an oz. The kids' size was very small, and definitely not as good of a deal as the Smoothie Factory. I was in and out of the store in 5 minutes with my smoothie. It tasted absolutely awful. It was super icy and clearly artificial. It tasted like poor quality flat soda. For a place that calls itself a smoothie cafe, it missed the mark by a mile. Truly disappointing. I definitely do not recommend the Tropical Smoothie Cafe.
My rating:
Cost: 6/10, efficiency: 6/10, taste: 1/10, overall rating: 4/10.
Jamba:
Next up, Jamba, located at 829 W Stacy Rd. I ordered the "Strawberries Wild." While Jamba does have a drive-thru, to maintain integrity, I went inside. The 16 oz small was $6.37, which is roughly 37 cents an ounce. That is way too much if you ask me. The restaurant was clean and nearly empty. My smoothie was made in less than three minutes. However, at the time I purchased it, they didn't have any lids, so just keep that in mind. I've been to Jamba countless times, so the taste is very familiar to me. I can say that most of the smoothies are good. The "strawberries wild" tasted pretty good, with a lot of strawberry flavor. It was pretty refreshing, but there were many fruit chunks in my smoothie. To be honest, it wasn't worth the price. Jamba is fairly reliable but very overpriced. 
My rating:
Cost: 2/10, efficiency: 8/10, taste: 6/10, overall rating: 5/10
Smoothie King:
Finally, I went to smoothie king located at 190 E Stacy Rd, and ordered the "Angel Food." It was 20 oz small for $5.30, which is 26 cents an oz. The restaurant was clean, and the employees were very helpful. My smoothie was prepared in around four minutes. It tasted kind of weird though. It had a strange, chalky texture and was very very sweet. I would compare it to more of a milkshake or frappuccino than a smoothie. It was very creamy, but it still just tasted kind of funny. However, from where I live, it is the most convenient. I definitely want to go back and try another type because maybe this one is bad. 
My rating: 
Cost: 3/10, efficiency: 7/10, taste 5/10, overall rating: 5/10
Overall:
So obviously, my least favorite was Tropical Smoothie Cafe with a score of 4/10. Jamba and Smoothie King both scored a 5/10, but based on taste alone, I decided to put Jamba in second and Smoothie King in third. My winner was Smoothie Factory with a 7/10. It was very cheap and delicious and in my opinion, much better than the other options.
Leave a Comment
About the Writer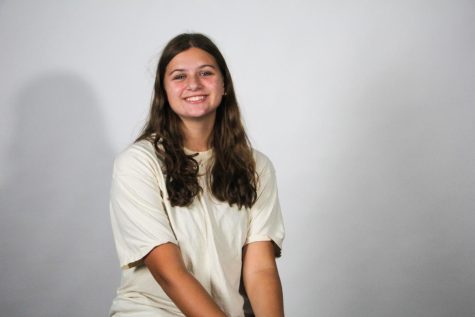 Anna Frost, Photographer
Heading into her second year on staff, sophomore Anna Frost is more excited than ever to have a camera in her hands. When not editing photos in the newsroom,...