Visual arts students win national gold medals
AP Studio Art 2D and AP Studio Art Drawing students recently entered in the Scholastic Awards from September to December. On March 17, senior Grace Flinchbaugh, senior Molly Gornell, junior Madi Stutler and junior Karlee Williams placed as national gold medalists.
"The national gold medal is selected by professional jurors of the Alliance for Young Artists and Writers," Williams said. "Usually, gold medal winners receive an invitation to Carnegie Hall, New York, to be recognized during the awards ceremony. Due to COVID-19 regulations, it will be a virtual ceremony." 
After qualifying for the Gold Key Award on the regional level, students must win again at the national level to win the national gold medal. All national medalists have the opportunity to win college scholarships.
"Your artwork also travels around the country for two years, and is displayed in various schools," Flinchbaugh said. "Receiving this award is an amazing milestone in my art career because, as I go to art school after graduation, I am able to receive extra scholarship money because of my award."
Flinchbaugh submitted "Textile," a mixed media sculpture.
"In this piece, I am exploring the idea of self representation and change over a period of time," Flinchbaugh said. "I used hand-dyed fabric, and then hand-sewed a variety of glass and metal beads on the exterior. The interior consists of documentation I had taken over a period of time and as well as strands of glass beading that fill the interior. This was one of my favorite pieces to create because the tactile process was so engaging, and I feel I was really able to capture a sense of identity within it."
Gornell won national gold for her piece, "Feminine Still Life."
"Using flowers and fruit, I created a still life that I designed digitally, then printed and drew with pen on top of," Gornell said. "This piece is definitely one of my most favorite pieces that I have made. The idea was to push femininity into this piece using specific flowers and fruits that symbolize women."
Stutler and Williams focused on environmental themes for their art. Stutler won for her "Man vs. Nature Triptych."
"My piece that won is a triptych made using gouache paint and colored pencils that depicts trash items with plants growing within them," Stutler said. "It was meant to be a play on the idea of man vs. nature in a design-friendly way."
Williams won the award with her piece, "Earth," which she created in her sophomore year.
"Our prompt was to represent a word or phrase that impacted us by depicting it with intentional media or symbols," Williams said. "I chose the word 'Earth' and created the composition with trash I collected in my neighborhood. I wanted my piece to be very tongue in cheek —  'Earth' made entirely out of trash — to represent how humanity consistently treats our world."
Both Gornell and Flinchbaugh plan to continue pursuing visual arts past graduation. Stutler aims to major in graphic design, and Gornell intends to major in design or visual arts.
"I would say I was surprised one of my pieces was selected as a national gold medal because this is my second year in a row receiving this award," Williams said. "Although I am sad winners don't get to go to the in person awards in New York, I am extremely grateful even to receive this award."
Leave a Comment
About the Writer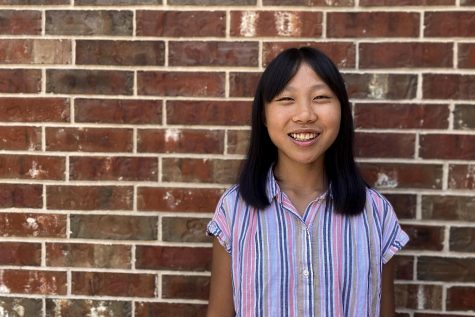 Alissa Chang, Staff Writer
Freshman Alissa Chang is excited to join The Red Ledger as a staff writer. After joining journalism on a whim in seventh grade, Alissa was surprised by...