Head volleyball coach wins AVCA award
Ryan Mitchell, the head volleyball coach, won the AVCA Region Coach of the Year Award on Nov. 18. His wife, Kaitlin Mitchell, posted an announcement of his achievement on Facebook. 
"I'm not just saying this, but you don't win awards as coaches unless you've had really good teams and kids," Ryan said. "They don't give these awards to people who don't win championships. I'm not naive enough to think that this award is kind of shared with the kids that have been here. They've done such amazing things, and it puts the spotlight on me, too. Then my assistant coaches too, I mean, I've got a staff of four other coaches that help me look good everyday. My award I share with them, too. They do such a good job to prepare our kids every game."
Mitchell has been coaching for 21 years; he started coaching high school in 2001. Mitchell also teaches leadership outside of volleyball.
"I think most coaches you compete against know the sport of volleyball," Ryan said. "That's what they're there to do is teach volleyball. I just don't think that a lot of coaches spend a lot of time on leadership development and developing their kids as leaders and people off the court. I see kids as a whole person and not just as a volleyball player and train them in both areas in leadership, personal development and in volleyball as well."
Cecily Bramschreiber, varsity player, has played volleyball since she was eight years old. Mitchell coached Bramschreiber as an assistant coach her sophomore year then as the head coach starting her junior year. 
"Ryan is an outstanding coach," Bramschreiber said. "It's obvious to all the girls and staff that he is a huge competitor as well as a great person. He does such a great job of not only coaching the varsity team, but creating an overall successful program."
During high school, Mitchell played for fun in church leagues, and in college at Dallas Baptist University he played on a scholarship for two years as a center. The practices begin with a warm up then go into the technique. 
"Coach Ryan does a great job of setting standards for the team and getting us dialed in on the mission," Bramschreiber said. "On the push of a button the whole atmosphere can go from relaxed to high intensity on his command, and he's able to do that because he earned his respect from the team really quick when he entered this program, and a lot of this comes from the good person he is off the court."
Natalie Puckett played for Coach Mitchell during high school, coached with him one year at South Lake High School and one at the middle school. It's her first year back coaching with him.
"I feel like the game just evolves and the athletes do too," Puckett said. "I feel like he's evolved with all the different trends and aspects of how fast the game is now and different things like that. It's comparable in the fact that he cares about the kids still. He makes relationships a priority, but it's different in the fact that the game is just different." 
Before Saturday Dec. 12, Mitchell won six state championships as a head coach, and one as an assistant. Now, his head coach's state championship number went up one with the varsity girls' win. 
"In those early years, the girls really bought into what it was that we were trying to do here as a program," Ryan said. "They were instrumental in laying this foundation of hard work and grittiness and leadership. Then once you establish that each year, it's a little easier to repeat that because kids just believe that's just what Lovejoy Volleyball is. The talent has gotten better over the years, but the leadership and the core, the fundamentals have kind of stayed the same. You put those two together. You put talent and just raw, pure athleticism, and such skilled kids with the structure in place that's here at Lovejoy. It's a winning recipe."
Leave a Comment
About the Contributors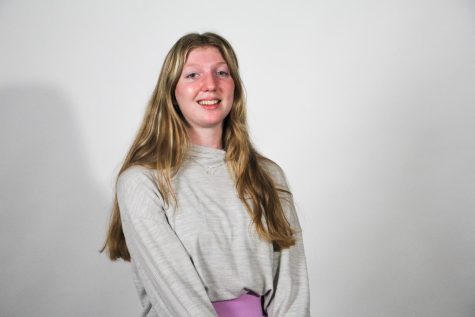 Calla Patino, Editor-In-Chief
Strolling into her third year on staff, senior Calla Patino is ecstatic to be back in the newsroom as an Editor-In-Chief, leaving her summer days of folding...