Immersed in the arts
Junior attends two week art program in Chicago
Every morning, junior Kiley Boots is up bright and early in art teacher Bryce McCasland's room actively working on her art project. Since Boots was little, she has been fully invested in art. Over the summer, she took a step towards an art career, attending a two week art program at the School of the Art Institute of Chicago (SAIC).  
"Every year there are a few colleges that just come here and talk," Boots said. "I want to go to an art school instead of just a regular school. That was kind of a hard decision for me to make, but that was kind of the first step I took into seeing what it could offer." 
For as long as she can remember, Boots has been interested in the arts, and she is beginning to explore what an art career would look like.The college program was the start of her process of looking down that path. 
 "There hasn't been a defining moment when I knew that I loved art," Boots said. "Art has been a huge thing in my life."   
SAIC is ranked among the top ten art schools and is said to be "the most influential art college in the United States" according to Columbia University's National Arts Journalism survey. 
The program was two weeks long with classes every day from 9 a.m-4 p.m. The participants did studio production and learned from SAIC professors.
"I think that it was a perfect fit for her as it allowed her to explore her process and use her personal voice as an artist," McCasland said. "I think that it was good for her to see her own work, ideation, and skill set in context to work outside of the LJVA [Lovejoy Visual Arts] program as it furthered her confidence and sense of self." 
During the two week program, SAIC provides the students with lessons from teachers, artists, designers, and scholars. The students get to explore Chicago, use the resources from the museum and work with professionals. Boots is considering SAIC as one of her options.
"I think that there are a lot of options for Kiley going forward," McCasland said. "There are so many factors at play— location, industry, school specialization, scholarship…all of which depend on what field of visual study Kiley pursues. I think any of the top five art schools in the US would be a great fit."
Being surrounded by art her whole life Boots has developed a love for art. While being invested in art, she has learned what it takes to be a devoted artist. 
"Kiley is thoughtful, intelligent, passionate, hard working, committed, driven, and completely herself," McCasland said. "She is unafraid of taking risks or new mediums. Because of these aspects of her artistic personality, her work is fresh, inventive and personal." McCasland said.
Leave a Comment
About the Writer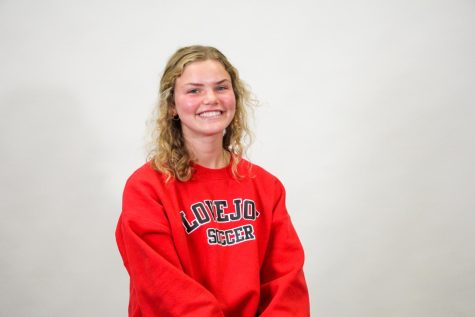 Margo Friloux, Section Editor
Entering her final year on staff, Margo is excited to work with her Co-Sports Editor and Leopard Life alum, Will Doig. This year is bittersweet to Friloux....