Campus parking lot gates puncture student's truck
Minutes before the dismissal of school last Wednesday, the parking gate at the school's east entrance blew open in the wind and collided with senior Garrett Larson's truck. Garrett came out of the collision injury free, but the iron gate broke through the truck and caused serious damage to the vehicle, effectively puncturing through the passenger airbags and the glove box.
"I was leaving school to grab food before a fall baseball game," Garrett said. "I went to drive out the side of the school closest to the basketball locker rooms. Since it was a windy day, [and] the gate was not latched, it blew into the side of my truck right above my tire."
Garrett recounted his immediate reaction to the collision and acknowledged that the incident could have been more severe.
"At the time [of the collision], I had no idea what happened because I only felt a rustle in the front of my truck," Garrett said. "Then, basically, the [gate] pole exploded into the passenger seat of my car. I'm lucky it hit the weak spot of my car and not any engines, or else it could have been much worse."
After the collision, Garrett was unable to leave his truck for approximately 20 minutes while traffic cleared. Due to concerns regarding FERPA protection, assistant principal Jeff Roberts was unable to comment about the situation.
Garrett's mother, Michelle Larson, provided context about resolving the conflict.
"It was very confusing at first because all we knew was that there had been an accident and there was a 'pole' in his truck," Michelle said. "Luckily, my husband was able to get there quickly because the school officials were preoccupied with the disruption to the outbound traffic flow. My husband was able to call the Lucas Fire Department for assistance." 
Michelle said the Larson family is waiting to receive video footage and additional reports from the school.
"Once we saw the gravity of what had actually happened, it was very upsetting given that his younger brother typically rides with him, and any passenger would have been gravely injured," Michelle said. "We are just hopeful that the school does the right thing, accepts responsibility and takes corrective measures with respect to the shape of the gates and the manner in which they are secured so that students will be better protected in the future."
Garrett explained that his accident can be a lesson to everybody at the high school.
"If we are going to be latching and unlatching these [gates] often," Garrett said, "we have to be able to trust our administration and faculty to be responsible and not let something like this happen."
About the Writer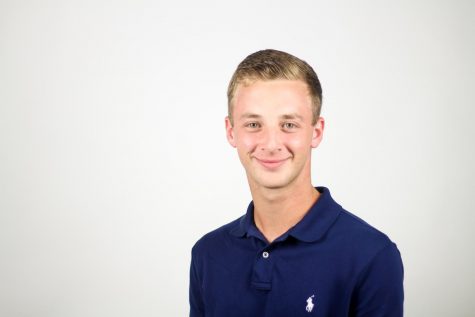 Benjamin Nopper, Section Editor
After joining staff and becoming an editor his sophomore year, Benjamin Nopper is enthusiastic to spend his senior year in the newsroom he considers...