Band places third in Golden Gate Triangle contest, to compete in Mckinney contest
This weekend the band will be attending the McKinney Marching Contest, and next weekend on Oct. 20 they will go to UIL followed by the Duncanville Marching Invitational the same day.
"So far, our competition season has been very productive," drum major Sarah Jahnke said. "We've gone farther than any Lovejoy marching band has gotten in competition in forever, and we're really good."
The band has competed in one competition this season, Golden Triangle Classic competition in Denton. They placed third in both prelims and finals, which is better than they have ever placed.
"This is our staff's fourth year all together, and it is an entire program of students that know how to do marching band at a high level," band director Paul Heuer said. "Because of that, we all 'speak' the same language at this point. This is only a new activity for freshmen this year, and they have three years of students that all they have to do is copy."
The directors and students have also added new visual movements to their routine to compliment their music this year.
"We added visuals when the band will be playing," Jahnke said. "Whenever we have a set where they don't move at all, they will either do like a squat, or sometimes they do lunges in different directions, and it's just really cool stuff."
The band has been breaking down the show to add visuals during the last week, and it has proven to be a challenge for the band.
"At first, the visuals negatively affected us, but the more we worked on it and repped it, we were able to improve," freshman Aidan Cordina said.
At the Golden Triangle Classic competition, the band won best brass and second in color guard in prelims and best marching in finals. Of all 20 to 30 bands at a competition, only 10 are asked to compete in finals.
"It was a competition we had never been to before, so to pull third is really cool," Jahnke said. "Once we go to finals were usually like 8th or 10th, but everyone pushed themselves very hard and pushed us all the way up to the top three which is really cool."
Cordina said the band's prospects look promising for future competitions.
"This year I think we are really strong," Cordina said. "At our upcoming contests, we have the potential to place really high. The upcoming contests have some really good bands, so we'll have put on the best show we can."
Leave a Comment
About the Writer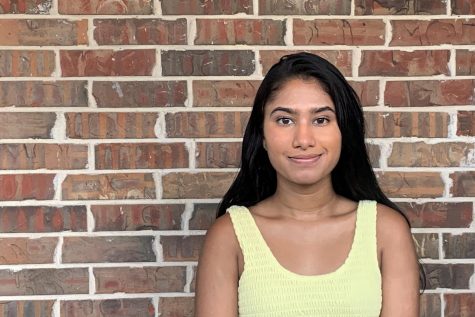 Arushi Gupta, Editor-In-Chief
Transitioning into her fourth and final year on staff, senior Arushi Gupta is thrilled to take on the role of Editor-In-Chief. After spending nearly six...