Coffee creamery
Coffee shop Cream and Sugar opens in Fairview Town Center
Craft coffee, creamy ice cream and kind people.
Tucked in the middle of the Fairview Town Center, Cream and Sugar shares local ice cream and carefully made coffee. Decorated with cushioned chairs, pops of yellow and a wall of named succulents, this coffee shop is far from the basic Starbucks.
Each employee of Cream and Sugar shows their appreciation for the coffee bean through putting care and quality into each cup, Cream and Sugar barista Caleb Darnell said.
"Everything is about craft and quality here," Darnell said.
One of Cream and Sugar's main goals is supporting local businesses through its own. With coffee beans from Oak Cliff Coffee Roasters, ice cream from Sweet Firefly, and honey from Bonton Farms, they work to bring a local taste to a traditional drink.
"If you do it right, you can pull such amazing flavors out of the beans," Darnell said.
As a craft coffee shop, they use naturally grown and farmed beans, rather than mass produced, in order to create a stronger, more flavorful taste.
"If you go to Starbucks and order a drip coffee and come order a drip coffee here, there's going to be a hundred times difference," said Levi Knight, one of the owners and managers of Cream and Sugar.
Another treat customers can find at Cream and Sugar is the local ice cream. Sweet Firefly, an ice cream business located in Richardson, Texas, uses natural ingredients to create unique flavors like lavender honey and cinnamon. Paired with Cream and Sugar's combination of espresso poured over the cold classic, the menu offers a diverse selection.
"Everything is as simple as possible," barista Matt Rassamni said. "For the ice cream, there's no toppings, and there are no cones because the ice cream itself simply is just so good. If you just get ice cream, you don't need any toppings. And the coffee, it's just as traditional as possible."
Freshman Makenzie Aubel has been one of Cream and Sugar's many ice cream customers, trying a simple vanilla flavor.
"My experience was really good. Their ice cream was fantastic," Aubel said. "I didn't get to try the coffee, but I hope it's good too."
While most local coffee shops close around 6 p.m, Cream and Sugar keeps its doors open until 9 p.m, and 10 p.m. on Fridays and Saturdays, for families wanting ice cream after their dinner. Students can take advantage of this by using the shop as a place to study or complete classwork. Darnell said the shop provides a great environment to be productive.  
"If you're a student like me, I'm taking college classes," Darnell said. "It helps to have a place to go where you can get work done and have a good environment."
Rassamini said the staff at Cream and Sugar make an effort to treat every customer with respect and make each one feel comfortable when they walk in. He said they believe a welcoming environment is just as important as great products.
"People are going to come back if you made them feel good, and if they felt welcome,"  Rassamni said. "No one wants to go in a place where they feel awkward. Especially with coffee."
The menu plays a role in keeping a simple environment, with every item marked with the exact cost. Knight said the tax was included in the marked price so what the customer sees is what they pay.
"Coffee can be overwhelming, and a lot of places have a lot of different things," Knight said. "So our jobs as baristas, as we hire people, is to train them on how to make the person when they walk in feel comfortable and not be overwhelmed by the menu."
Since their opening day on Aug. 10, Knight said business has been picking up with each day, and, as word spreads, he believes that it will soon become a place residents of the Fairview area will grow to love.
"We have no doubt that in two months from now," Knight said "or a month from now, once people find out that there's the best coffee shop in town in Fairview and there's ice cream, [it's] going to be madness."
Leave a Comment
About the Writer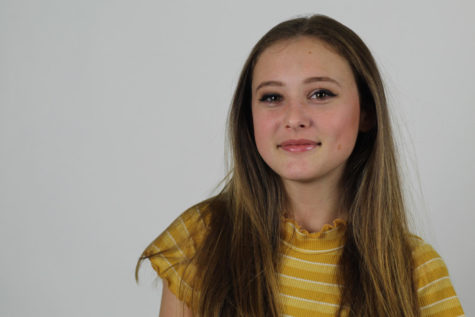 Abigail Lund, Staff Writer
Abigail Lund is a senior at Lovejoy, and this is her first year in The Red Ledger staff. She recently moved to Texas from Mississippi in January and is...