A return from the brink
Lovejoy Elementary student, Zane Lambert, is set to return from school after a stay at the hospital.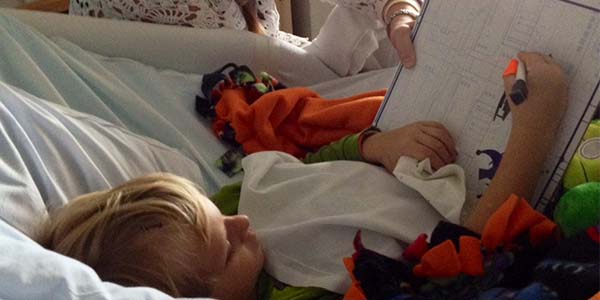 While most other 6-year-olds frolicked around their home playing with their toys, not a care in the world, Lovejoy Elementary School student Zane Lambert was unconscious in a Children's Medical Dallas hospital bed in a dark room with his mother by his side, a prayer lifting to the heavens from her lips. The only sound was their soft, steady breathing. The doctor's silent urgency filled the room as they discussed treatment for the young boy, but the small, creeping monster that is doubt pried at the back of their minds, though they pushed it away every time the beast's voice surfaced into their train of thought.
What started off as a family fun Saturday turned to disaster for the Lamberts on October 25 as Zane was in a go-kart accident that sent him to the hospital for six weeks. Now, nearly two months later Zane is set to return to school on Monday. He wears a gait belt and will go to school in a wheelchair. Also, he will have an assistant in class to help him.
However, the memory of what happened on that late October day is still fresh in the minds of the Lamberts. The family, new to the area, was hanging out with their neighbors on the day of the accident, who had a daughter in Zane's class.
"They brought [their go-kart] over, and we don't really know them very well, so we were sort of like all standing outside watching the kids play, and just getting to know each other and stuff and their daughter was on the go-kart and I was like, 'That's kind of fast,' you know, you're just processing it, and then she hopped off and Zane hopped on, and he just floors it because he doesn't know how the pedals work, he just gets on, [going] full steam ahead, and he was going to try to do a lap around our house, and when he turned the corner to go around our house, the backside, he went into the fence," Zane's mother Misty Lambert said. "We ran over there and he was unconscious and there was blood coming out of his ear, so we called the ambulance and it felt like it took forever for the ambulance to get there."
It all happened so quickly and suddenly for Misty.
"[What ran through my head was] prayer. That's all I did. Immediately, as a mom, I just picked him up, I just needed to pick him up and just hold him and check him out and see what's going on. Immediately I just started praying [because] in that sort of situation, that's all I could do," Misty said. "So, I was holding him and I didn't realize how much they help you when you pick them up, like he's a lot lighter when he's conscious and helping and gripping onto me like a monkey versus he was really heavy, he was just limp. I'm trying to keep track of our children and we don't even know these neighbors very well, and it was intense."
Zane was rushed to the hospital in McKinney; however, there was no medical equipment or braces that fit Zane because he is so small, so he was care flighted to Children's Medical Dallas.
"When we got there, there was like probably twenty to thirty people in a room just waiting on him," Misty said. And so, they started work on him and [the doctor] wanted ICU and he was completely fine from the neck down, but they didn't know if the neck was broken, so they had that brace and then the main trauma was on his head, the back of his head."
Zane did have a bike helmet on, although he still received a lot of head damage because it was a "cheapy, princess, styrofoam" helmet according to Misty.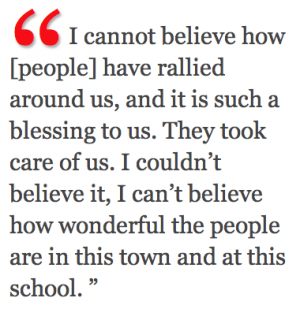 "He was in ICU, he was unconscious, they needed to figure out the pressure in his brain, he was on life support, and there was just a lot of prayers, a lot of like 'is he going to be ok, is he not going to be,' we're just trying to pray our way through it, and that's what carried me through, prayer and talking to God," Misty said. "It was hard because we have four children, so I sent [my husband] home to take care of the other three children, and he took off like three weeks of work and I stayed at the hospital with Zane."
Prayer kept the Lambert family strong then a moment of hope and tenderness occurred in the hospital.
"We were praying and I was just praying and he was asleep and then all of a sudden he just sat up and he's still really out of it but he sat up and he like reached his arms to the sky like really, you know, not a lot of muscle and he hugged me, and I was like 'oh my goodness,'" Misty said.
Zane had a device to measure the pressure in his brain and the surrounding fluid with the pressure supposed to be around 10 to 19, and Zane's pressure was about 25 and shifted between the teens, 20s, and even 30s and 40s at times. His room had to be kept quiet and the lights had to be off in order to avoid stimulating his brain. Zane was unconscious for about a week and a half, and when he woke up, he couldn't eat, talk, or walk. But, he was breathing on his own. Over time, Zane's condition improved (including temporary double vision), and he is now on the road to recovery.
"As time [has] progressed, he's getting better. It's this miracle that we wake up to everyday. This is his sixth week and [on December 10] he [got] to leave the hospital," Misty said. "He's now eating on his own, he's going to the bathroom on his own, he's talking. He's just what we were praying for that he would be exactly the way he was. I didn't want anything to be different, I wanted him to be the sweet Zane that he was before all this happened. And he is. We are very thankful."
His walking ability is improving tremendously to where now Misty Lambert can simply hold her son's hand to help him walk. While he was in the hospital, a VGO robot allowed Zane to participate in class, and his classmates supported his recovery.
"Our parents have been providing meals to the family," Zane's Kindergarten teacher Sheryl Nicholson. "There was a gift card collection to help out, also. As for the students, they made a get well banner, wrote cards of encouragement, and communicated daily via the robot. This kept the kids and Zane connected. They also recorded individual video messages to him and we sent those before we got the robot. I visited when I could."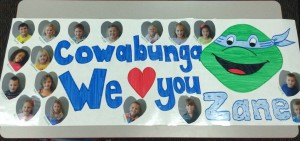 His classmates are glad that their friend is returning to school.
"I feel very happy and I missed him so much," kindergartener Payge Snodgrass said.
The rest of the community also supported Zane and his family. A party was even held for Zane once he was released from the hospital.
"I cannot believe how [people] have rallied around us, and it is such a blessing to us. They took care of us. I couldn't believe it, I can't believe how wonderful the people are in this town and at this school. The principal came to visit him, Mrs. Jackson, his teacher, Mrs. Nicholson came to visit him, I think multiple times," Misty said. "And then they got that VGO robot for Zane. People brought us dinners, I mean people we don't even know have been bringing us [things], providing for us dinners and gift cards and some people even gave me gift cards to go eat at the hospital. I mean they're helping and they want to help in any way possible. Whatever we need, they're there. I can't believe the help and the genuine people that are in this school district, it's wonderful."
Though there's a long road ahead of them, the Lamberts are incredibly thankful for their son and the Lovejoy community's assistance and this holiday season will be a heartwarming time of celebration and family.
"We are without need this year. There's no better gift than our family being together at Christmas. We are just without wants," Misty said. "We're just so thankful to be together for Christmas. There's going to be a lot of tears and a lot of praises and it's going to be wonderful."
About the Contributors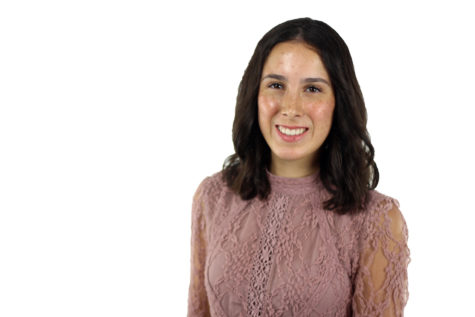 Hannah Ortega, TRL Editor-in-Chief
Senior Hannah Ortega's love for journalism has blossomed from a curious seed, which was planted when she joined the class in the seventh grade, into...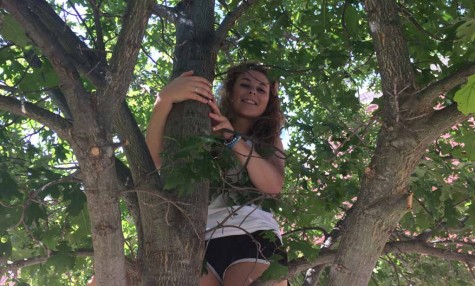 Kaylin King, Photographer/Videographer
Kaylin King is a senior who has her heart stuck in California. Being born and raised in San Diego her life there would come to an end after 15 years when...