Kelly Family Farms adds a unique food truck experience
Hang on for a minute...we're trying to find some more stories you might like.
From the Dallas Arts District to the Food Network show, food trucks are a popular trend across the nation. It's no different locally as the Kelly family keeps one parked on Lucas Road in Parker. But the burger stop is just the start of a Kelly Family Farms business plan that is centered on its 100 percent grass fed beef.

"We raise our own cattle," owner Chanin Kelly said. "The reason that it is so good is because it is 100 percent grass-fed beef. We do not confine our animals and "feed them out" (fatten them up with corn) and we do not use any steroids or antibiotics to increase their growth un-naturally. We use natural [which] means to raise our cattle even though it takes longer, it is well worth the health benefits."

Along with selling hamburgers at their food truck, they also sell beef.

"We usually order a quarter at a time and that feeds our family for 8-9 months,"  customer Anna Burrow said. "The whole family likes the flavor and freshness of the beef. When I have compared it at the grocery store, it is priced competitively with what I can get at the store, and I know for sure where this beef came from and how the cows are treated. I also really enjoy the convenience of having lots of dinner choices in my freezer anytime I need it. It has also been fun to find some new and different recipes since we got cuts I wouldn't normally be able to find in the store, so the kids and I have had fun searching for different things to make."

The beef produced by Kelly Family Farms is the the culmination of work by the entire family as the cattle receive lots of attention.

"My dad and my uncle take care of the farm in Bonham and sometimes I will help when it is not football season but they go up there almost every day and check on the cows and make sure everything is okay," junior Cason Kelly said. "[My favorite thing to do is] work with the cows. I think that's really fun because you get to see what goes on."

The family strives to be much more than its burger truck.

"

"Our family works together on a daily basis to care for the land and cattle that God has given us," "

— Chanin Kelly said

"Our goal is basically stated in our Mission Statement, which reads: Our family works together on a daily basis to care for the land and cattle that God has given us," Chanin Kelly said. "We strive to provide other families (our community) with the healthiest, quality beef possible.  Family is important to us, and we pray that our farm will be a small part of bringing other families together around the dinner table."

A local family, two of its three kids attend the high school.

"I think my family's business is a cool way to use what we already have, with the cows and everything, and sell it," sophomore Caline Kelly said. "[My favorite part] is the fact that it is a family owned business."

Although they want as many people as possible to come to the burger truck, it's about more than the food for the Kelly family.

"Our goal, as a family, when we discussed opening the food truck was this: (1) we wanted to have the opportunity to provide a healthy alternative to Fast Food, (2) have the opportunity to bless others, ​(3) have customers leave with a good "feeling" (we love our customers and want them to "feel" that when they leave), and lastly (4) We want to provide the best tasting burger in our area," Chanin said. "When our customers leave, we want them to say, 'That was the best burger I've ever eaten.' If we can meet any combination of these goals, then we have been a success."
About the Writer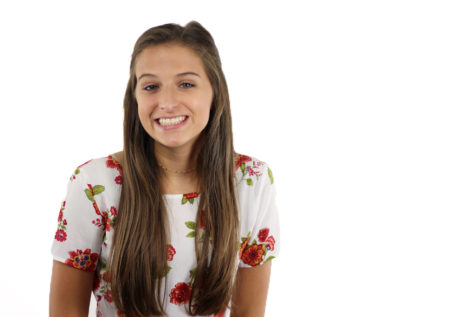 Mary Catherine Wells, TRL Editor-in-Chief
Mary Catherine Wells, a now senior at Lovejoy High School, proudly takes on the role of Editor-in-Chief at her online school newspaper, The Red Ledger....