School sees Shattered Dreams played out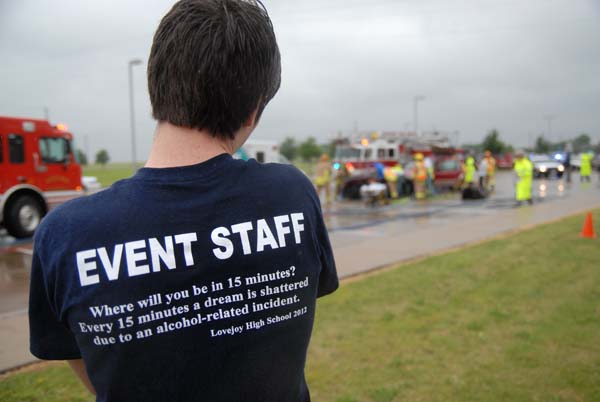 Hang on for a minute...we're trying to find some more stories you might like.
Three students lie dead, covered in blood, at the scene of a horrifying car crash as the rest of the student body and faculty members watch eagerly to the side, wondering what is going on. Another student screams in agony at the excruciating scene around her and the petrifying loss of feeling in her legs. Another is pried from the crushed remains of a car to be put in a care flight. The last student stumbles through a sobriety test issued by the cops who will soon arrest the young man for a grocery list of charges including intoxicated manslaughter.
But don't worry, it's all part of the plan.
On Friday, April 20, the school took part in a nation-wide program called Shattered Dreams that simulates a realistic car crash designed to educate students, parents, and the community on the dangers of drinking and driving. The program usually takes place before prom, as this is when the students are most likely to take part in such activities.
"We just saw the benefit in it. That's the main thing I think," program coordinator Tami Parker said. "We set the date which turned out to be perfect because it's two weeks before prom and six weeks before graduation. When we started talking to the administration about it, they were really positive about letting us have the day."
The program took place over two days and involved heavy planning and secrecy. On the first day a grim reaper entered a classroom every 15 minutes to announce the death of a selected student due to a drunken driving accident. This time interval is used to represent the statistic of how often someone is killed in an alcohol-related accident. The student is then taken to a room where their face is painted a ghostly white, and they are given a black t-shirt to wear that labels them as the "Living Dead." The student is returned to class after being instructed not to speak or interact with anyone for the remainder of the school day.
"It felt really weird, I couldn't get my opinions out to my friends or talk to them," freshman Olivia Ditmer said.
The following day started out as a seemingly average, uneventful half-day. It wasn't until the announcements played that the day began to take a turn from the norm. A short video clip was aired showing the faces of the previous day's "Living Dead," as well as interviews on what the experience was like. This clip was immediately followed by a 10 minute video skit of students Austin Welhouse, Zach Wilkins, Jeremy Burno, and Peyton Bergwall making some poor decisions that lead to a head-on collision with students Tessa Haas and Katie Ruhala.
After the video ended, the fire alarm went off and the student body and faculty members were led to a section of the parking lot where the simulated crash and aftermath were taking place. Many students reacted strongly to what was occurring, while others joked around and failed to take the event seriously.
"The whole event is frustrating. They should have just told us we would die if we drink and drive," senior Ciao Formenti said. "We aren't stupid, we know we will die if we get in a serious accident."
As the crash carried on and the actors got further into character, the mood of those watching began to change, especially as the care flight helicopter showed up.
"Somebody told me that this whole thing was fake, but then I saw the helicopter and I was thinking wow, could they really convince them to bring in a helicopter if it was fake? I started to get a little worried," junior Oliver Brewer said.
What made the crash seem so realistic was the number of things going on at once, creating a hectic environment. Another factor that added to the array of emotion was the personal connection many students felt with those involved in the crash.
"My best friends are the ones out there. I would be devastated right now if this was real," senior Danielle Stephens said. "To see the parents and just all the emotion is just amazing, it's all so real."
The event took months of secret planning and preparation involving many people throughout the community. Student council has been planning since early October to ensure things ran smoothly.
"To prepare we had to contact a lot of people like the speakers, the fire department, and the police. We also had to contact all the people who were going to be in the actual accident. We also had to plan the day and make sure the people would come to school," student council member and sophomore Anna Eisenhart said. "Nobody found out about it, we had to keep it a secret for so long, but everything worked out in the end."
Student council choose students who are involved in different areas of the school to take place in the crash to maximize the number of people affected throughout the school. Senior and Majestic officer Peyton Bergwall was one of the students who "died" in the crash.
"It hit us [The Majestics] really hard because that's our major; it's one of our friends, one of our sisters. It was hard to watch. But student council did a really good job," senior Alex Nelson said.
The police and fire departments were happy to offer their help to such a notable cause. Some of them found themselves affected by the program as well.
"It was emotional because we see this quite often, and it's never something we want to see," Lucas fire department battalion chief David Leonard said. "It's the same old message: Don't drink and drive."
Parents played a particularly moving role in this event. Many students were brought to tears when they saw mothers MaryLee Bergwall and Janice Haas run to their "dead" daughters at the scene of the crash. As would be expected, it was not hard for the mothers to get into character while seeing their daughters covered in blood in the midst of a disaster scene.
"I know it was all just pretend, but when you really put yourself in that situation it just really wasn't hard for me to feel like it was really happening, and what a tragedy it would be if it was for real," Janice Haas said.
After the crash, students were directed to the gymnasium where a guest speaker talked about the importance of abiding by the law. Following the speaker, junior Katie Ruhala, who was believed to be paralyzed from the waist down in the crash, desperately pleaded with the students not to drink and drive.  The student body was impacted when they saw Ruhala, a state champion cross-country runner, confined to a wheel-chair. Members of her team became emotional.
"It was really depressing, I cried the whole time. I couldn't imagine what it would be like to not run with her every day," sophomore Abby Tedford said. "It was unbelievable."
After Ruhala was wheeled out of the gym, the lights were dimmed and the students were shown a picture slideshow with a voiceover of the "deceased" students' parents reflecting on their child's life and the tragedy that took it away. The students also got to hear the voice of the "deceased" student talking about the fragility of life, and the things they would have liked to say and do if they were still alive.
"I actually got really emotional because I've never really heard my mom talk about me like that," junior Zach Wilkins said. "I just really appreciate her for doing that."
Junior Austin Welhouse, the student at fault for the crash, was brought out to the middle of the gym by two policemen who explained the consequences for his many offenses.
"I got to see Katie speaking and I got to see Austin speak about what would happen if you were the driver of an accident," senior Peyton Bergwall said. "It was scary hearing something that intense."
It's not every day that students get to play dead, so they made sure to embrace the opportunity they were given to learn as many lessons as they could. Participants feel honored to have taken part in this once-in-a-lifetime experience and view it as a chance to realize the severity of avoiding what could be a lethal mistake.
"It was good to show people what could happen if they risk their lives and other people's lives by doing things that they think aren't going to affect anyone else but themselves," Bergwall said. "It was scary but I'm so glad I got to be a part of it."
The Shattered Dreams program has instilled what will hopefully be long-term changes to students' habits and outlooks on drinking and driving, and other dangerous behaviors.
"That presentation has changed my outlook on what I'm going to be tolerable for my friends to do when I'm around," senior Mary Paige Taggart said. "I've been notorious for just allowing my friends to do things, thinking that it won't hurt me, but it can."
After either participating in the program or just witnessing the events, many members of the community stress the importance of making good decisions.
"Just be smart. This is not something to mess with. To kids that do drive and do other things, just when you get in that car, you make sure that you are fit to drive," Haas said. "Don't ever be the one to be responsible for something like this."
All in all, the Shattered Dreams program played out to be a life-changing experience that will not soon be forgotten.
"It was a wakeup call. It makes you realize how much people in your life mean to you," Bergwall said. "I think it was worth it."

About the Writer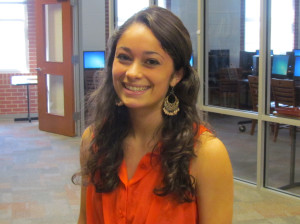 Liz Schasel, Editor-in-chief
Liz Schasel has yet to introduce herself in a staff biography without a joke about being vertically-challenged, and wouldn't feel comfortable starting...