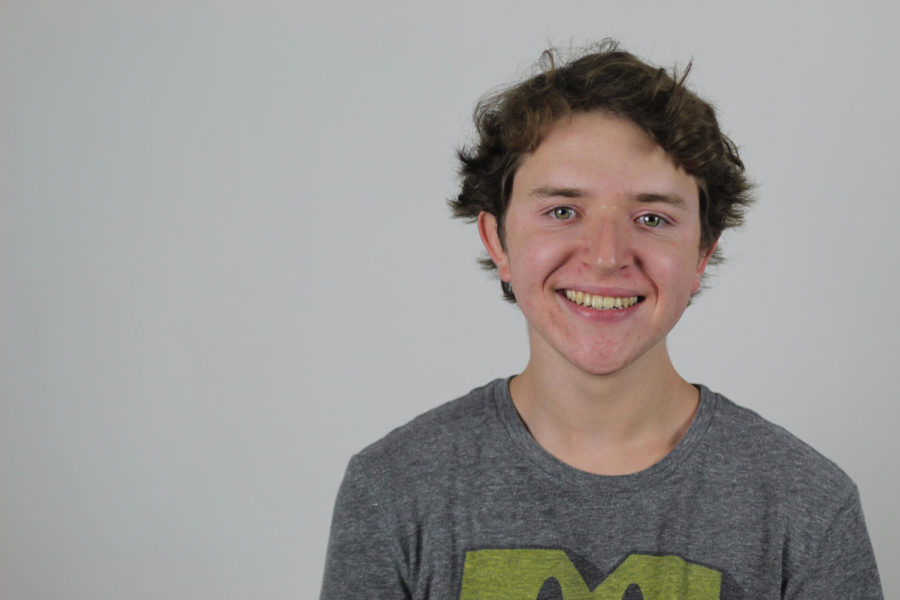 Grant Vogel will spend his senior year as a first-time staff writer with The Red Ledger. During his junior year, he wrote his first three movie reviews featured on The Red Ledger including: "A Quiet Place," "Solo: A Star Wars Story," and "Deadpool 2." This year, he works as a movie reviewer for The RedLedger. His favorite films include: "Avengers: Infinity War," "2001: A Space Odyssey," "Dracula" (1931), and "The Star Wars Holiday Special." He strongly stands by his belief that "Parks and Recreation" is a better TV Show than the "The Office" (U.S.)
and that "Community" is better than both of them.
He isn't the biggest "Harry Potter" fan, but he prides himself in being a self-proclaimed Gryffindor displaying naive but daring behavior.
Grant Vogel, Staff Writer
May 14, 2019

Senior goodbye: Reeling it in

(Story)

May 08, 2019

Podcast: A MARVEL-ous run

(Story)

Apr 30, 2019

Review: Avengers assemble for the last time in 'Endgame'

(Story)

Apr 22, 2019

Review: 'Hellboy' burns at the box office with senseless plot and breakneck pacing

(Story)

Apr 11, 2019

Review: 'Shazam!' shocks audiences with hilarious comedy, relatable characters

(Story)

Apr 05, 2019

Podcast: Holding out for a hero

(Story)

Apr 03, 2019

Review: 'Us' succeeds in thrilling audiences during the dry season

(Story)

Mar 26, 2019

Video: A Lifesaving Lesson

(Story/Media)

Mar 22, 2019

Review: 'Captain Marvel' flies into theaters despite underwhelming reception

(Story)

Mar 06, 2019

Review: 'Umbrella Academy' suffers with similar episodes

(Story)

Mar 04, 2019

Podcast: Reel Critics offer commentary with a twist

(Story)

Mar 01, 2019

Podcast: Reel Critics' plan to improve the Academy Awards

(Story)

Feb 21, 2019

Podcast: Reel Critics take aim at 'Hollywood's biggest night'

(Story)

Feb 01, 2019

14 Days of Love 2019

(Media)

Jan 30, 2019

Podcast: Sing-along with the Reel Critics

(Story)

Jan 28, 2019

Review: 'Glass' storyline 'crumbles under the weight of high expectations'

(Story)

Jan 24, 2019

Video: Special Sounds

(Story)

Jan 16, 2019

Podcast: Breaking down the best and worst of 2018

(Story)

Dec 19, 2018

Podcast: Reel Critical is makin' a list, checkin' it twice…

(Story)

Dec 10, 2018

Majestics hold coat drive for holiday season

(Story)

Dec 04, 2018

Podcast: Remake us an offer we can't refuse

(Story)

Dec 03, 2018

Friendsgiving 2018

(Media)

Nov 16, 2018

Podcast: Reel Critical talks 'Widows,' 'Grinch'

(Story)

Nov 09, 2018

Video: Senior pulls upset in musical chairs competition

(Story/Media)

Nov 09, 2018

Review: Despite shortcomings, 'Bohemian Rhapsody' will rock you

(Story)

Nov 05, 2018

A Cornerstone Connection

(Story/Media)

Oct 30, 2018

The greatest thrillers of Netflix

(Story)

Oct 30, 2018

Review: 'Halloween' worth the watch

(Story)

Oct 29, 2018

Podcast: Reel Critical hosts share their favorite scary films

(Story)

Oct 26, 2018

Video: A front row seat for Mr. Lovejoy

(Media)

Oct 24, 2018

Podcast: Reel Critical seeks antidote for 'Venom'

(Story)

Oct 11, 2018

Review: 'Venom' needs less backstory, more action

(Story)

Oct 01, 2018

Review: 'Predator' provides nonsensical and sluggish plot

(Story)

Sep 27, 2018

Video: Crushing it

(Media)

Sep 12, 2018

On The Spot: St. Jude Carnival

(Story)

Sep 10, 2018

Review: 'Searching' includes complex characters and realistic mystery

(Story)

Aug 30, 2018

Review: 'Crazy Rich Asians' inspires pride in heritage

(Story)

May 29, 2018

Review: Force not with 'Solo: A Star Wars Story'

(Story)

May 22, 2018

Review: 'Deadpool 2' provides crude humor and innovation

(Story)

Apr 23, 2018

Review: 'A Quiet Place' thrills audience despite simplicity

(Story)