Review: 'Glass' storyline 'crumbles under the weight of high expectations'
After setting the stage 19 years ago with his second major theatrical release, "Unbreakable," M. Night Shyamalan has returned in "Glass" to conclude the story of reluctant hero David Dunn (Bruce Willis) and his wheelchair-bound mastermind nemesis Mr. Glass (Samuel L. Jackson). In addition, Shyamalan has included the personalities of "The Horde"/Kevin Wendell Crumb (James McAvoy) from his 2016 film, "Split," adding to the film's unpredictability.
Having some of Shyamalan's greatest original characters in one film may sound a little too ambitious, but the first two acts are quite solid with Sam Jackson acting more like Lex Luthor than Jesse Eisenberg did in "Batman v. Superman," Bruce Willis having a very vacant yet perplexed look on his face the entire film (which works for his character), and the exemplary, bizarre performances from James McAvoy which definitely carry the film.
Essentially, the plot revolves around the vigilante, David Dunn, as he attempts to defeat the serial killer known as "The Beast" (the 24th personality of Kevin Wendell Crumb). But as their fight ensues, they are both captured by Dr. Ellie Staple (Sarah Paulson) and taken to a mental institution where Dunn's former nemesis, Mr. Glass, is also being held. The film in the beginning is a little bit slow-paced but is ultimately strong. Having "The Horde" meet both Dunn and Glass allows for a multitude of enthralling interactions as McAvoy changes from personality to personality. The scenes in which Dr. Staple examines the alleged superhumans also make the audience question whether or not they indeed do possess extraordinary abilities or not.
The third act however, (without spoiling anything) ruins everything that the first two acts and the other films were building toward. And since this was directed and written by Shyamalan, there is definitely a plot twist. But this film's plot twist is more of a misdirection to another property Shyamalan could return in another 19 years. And unfortunately, it is far more uninteresting and implausible than having three superhumans alive in the real world. The twist practically ruins all the momentum the film had, and can't be redeemed no matter what Shyamalan says his intention was.
Furthermore, the whole central scheme that the superpowered trio must be kept away from the public's eye is just completely flawed. The extraordinary feats Dunn, Crumb, and Glass do in the film aren't exactly supernatural enough to be seen as superhuman. There are people in the world with dissociative personality disorder like Kevin Wendell Crumb, there are probably people who can crawl up walls if they were fit enough, and there are definitely people who can bend metal bars. Just see what extreme bodybuilders are capable of on Venice Beach. If the trio did actually accomplish extraordinary feats (like Spider-Man, Doctor Strange or any other superhero) that would astonish normal people, then the idea that they must be hidden away from the public would be a lot more interesting and more engaging.
Also, adapting the idea of "superheroes living in the real world" has been told too many times already. Literally every single superhero movie portrays what would happen if superheroes existed in the real world. "The Dark Knight," "Iron Man," "Chronicle," et cetera. It is honestly a tired concept and isn't taken to an interesting, innovative place in "Glass" like it has in other films.
If fans of "Unbreakable" and "Split" expect this film to expand the shared universe they both inhabit, then they will experience the exact opposite as the framework crumbles under the weight of high expectations and poor story decisions.
Rating: C-
About the Contributor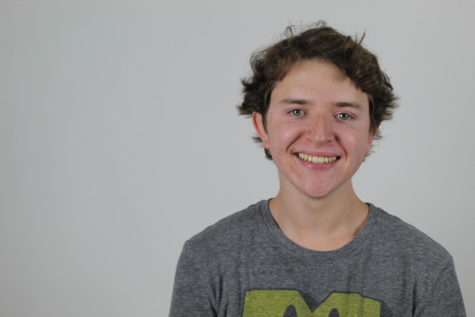 Grant Vogel, Staff Writer
Grant Vogel will spend his senior year as a first-time staff writer with The Red Ledger. During his junior year, he wrote his first three movie reviews...