Senior Goodbye: A final toast
I've had to drag my brain out of the depths of senioritis to find the slightest bit of motivation to write this. Even with my condition, I couldn't pass up this moment to share, to write one last time for a paper that showed me what I wanted to do with my life.
I'm ready to graduate, ready to enter this new adventure and ready for summer. But I repress every thought of walking across the final stage of high school. I can't think about living across the country from my family, my home. I can't think about saying goodbye to my friends who have been with me in all my awkward phases. I don't want to, and I won't until August.
Even though I'm excited to find my independence, my fear of all the new things I have to experience alone masks that joy. I guess part of the reason why I kept pushing this off was because this made the end real. All this change has only now hit me and led to another overwhelmed breakdown. 
When I was little, I couldn't wait for the big senior year I'd seen in all the 80s movies my dad educated me on. I may have not created a whole bunch of mischief or acclaimed a newfound popularity, but I made it my own. What better way to end my high school career than with a toast? After all, I'm the queen of cliches.
So, let me raise a glass to the end of high school. 
Here's to:
The last summer cross country training where I swore I was smoldering in the heat even though I secretly love the Texas humidity and know I'm going to miss it. The season I finally broke my best time. The long run group that helped me improve and made every run fun. To everyone on the team over these short past four years that made me feel like I belonged, thank you. I'm glad to know that when I'm far away I can find comfort and solace in heading out for a run.
To my best friends (you know who you are), thank you for putting up with me all these years. I don't understand how each of you are always there for me. I'm going to miss our bonfire talks, Starbies "study" trips, movie nights and our board game lollapaloozas. Each of you have such kind, giving souls; I know each of you will do amazing things and hope you see it for yourselves. Even though we'll be far from each other, I can't wait for the endless facetimes in the future where you all can tell me to stop overthinking.
 When I walked through E103 freshman year for a journalism class, I wasn't prepared to refind my love for writing which was snuffed out from years of meaningless English classes. It introduced me to a more straightforward writing I've grown to prefer. To the teacher that started me off on my journalism journey, thank you. You believed in me and taught me everything I know. It was your influence and encouragement that helped me realize I wanted to pursue journalism into my future. 
Thank you to everyone that made TRL a welcome place where I could be comfortable. I have met so many wonderful people through this class, and if there is anything I've learnt, it's how to balance fun while remaining productive. I'm going to miss the hectic times on deadline, Charles (my emotional support stuffed bear —formally known to everyone else as the 14 days bear), the relaxing country or tropical music mixes and circling up for a good old FNR with our poor abused chicken whose had to have stitched surgery multiple times.
With the close of my high school career, I'm antsy for the summer sun's transitioning glow. However, before the last day roams around, I plan to enjoy the final boring days. High school really is a short time, and it's true when they say you change so much from the first time walking into the building to the last. For some, high school may not be all it's chalked up to be and that's okay. It's a time to try new things, learn who you are and enjoy the simplistic freedom.
Therefore,
To the crazy subs that bring a class together more than any "get to know you" activity ever could.
To the dances with terrible DJs.
To all the good and bad. High school, thank you. 
For the last time, FNR.
View Comments (1)
About the Writer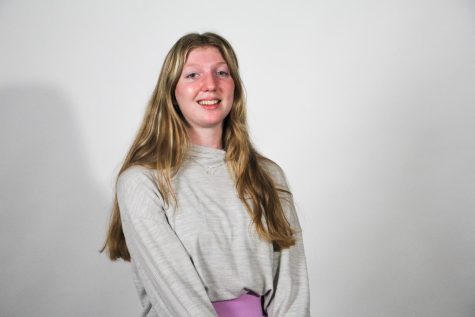 Calla Patino, Editor-In-Chief
Strolling into her third year on staff, senior Calla Patino is ecstatic to be back in the newsroom as an Editor-In-Chief, leaving her summer days of folding...