Senior Goodbye: Six lucky charms
I'm having a hard time writing this. Really, I'm having a hard time with it all. I hate goodbyes; I'm horrible at them and always have been. I know it sounds cliche, but it's true. I don't like the thought of a chapter in my life closing, even though I know I have so much good ahead. Sure, I am so excited to be done with work, have major senioritis and am so excited for college, but I struggle to fully feel it when this block of saying goodbye is in my way. 
I truly got lucky in high school. These have been the best years of my life, and I know not everyone can feel the same. I feel like it's only fair to dedicate this to the people who have made these years so joyful and are the reason why moving on is so hard.
I met Gia, Jordyn and Chaney all in first grade (woop Hart Elementary!). Since then, we grew up together. From dancing to Justin Bieber's "Baby" in the second grade talent show to linking arms and walking through the leopard on our first day of senior year, we've done it all. These three have been constants throughout my life, and I couldn't ask for better people to grow up with. I can't pinpoint exactly when Molly, Tatum and Ainsley joined our group, but I know it was early high school. Right when I needed them. My first year of high school was not my proudest. I was trying to figure out who I was and who I belonged around. Through all that confusion, my friends stuck by my side loving me through my box-dyed hair. Ever since the "My Friends (ring emoji)" group chat was created, I knew I found my people. 
If you know me, you know I love my friends more than the world. You've heard our weekend plans, our Cream and Sugar coffee dates and the always active group chat. All of my best memories involve the six of them. Our "best day ever" where we spent the whole day outside with no phones and no worries swimming and slipping and sliding like we were little. Or our highly referenced Jamaica trip that has too many stories to share. Or the days of last-minute "open invites" that turn into talking and laughing nights that I wish I could stay in forever. I can't wrap my head around the fact that in a few months this will all come to a close. It's horribly sad to think about, but these memories are things I will never forget. And the lessons I have learned from each of them will stick with me forever. 
Jordyn has taught me what loyalty looks like. She's been the sister I always wished for these past 12 years of our families becoming more meshed together by the day. Even after moving away for two years, she stuck around and made me feel loved thousands of miles away. 
Gia has a heart of gold and has shown me how to love intentionally. Gia lays her life down for everyone around her and is anyone's number one cheerleader through the good and bad. Her joy radiates and there is nobody quite like her. 
Chaney has taught me strength. Chaney got the worst of my freshman year valley and pulled me right back out of it stronger than I was before. She showed me how to stand up for myself and how to stay true to who I am.
Ainsley has taught me dedication. She is one of the most compassionate and understanding people I have ever met and is there for you rain or shine. Ainsley has shown me what it means to listen, understand and support. 
Tatum has shown me selflessness. Tatum will do anything for anyone around her, even if they're a stranger. She is the epitome of putting herself last and will stand up for anyone who is wronged. 
Molly has taught me how to listen. She is my go-to for any type of decision or piece of news. She will stand by your side in the deepest of waters, or jump up and down with you when the storm finally passes. 
I could not be more thankful for these years I have gotten to learn and grow with my best friends, and know that this type of friendship is forever. Because as cliche as a lot of things in here sounds, they're family. So as hard as it is to leave, I know it's time for others to experience what life is like surrounded by any one of these girls.
 I'm thankful for my whole experience at this school. Walking through the hallways now and looking at all the classrooms I've spent the past four years in brings back a lot of memories, and reminds me again of how lucky I got all throughout. 
I can't believe I'm writing my last piece for this publication and will walk out of E103 one last time. The room has seen the best and worst of me and brought me some of the greatest blessings. My core four middle school newspaper to high school newspaper group of Lindsey, Will and Margo has been one of the best things about this publication, and I can't wait to reunite in the newsroom so soon.
So as I close out, I want to encourage everyone reading to remain present in every moment you get, because it goes by so quickly. Everyone says it, and I never believed it until it became a reality. Say yes to new opportunities, and make the most of the four years you get here. If you haven't found your group, don't worry because they'll show up when you most need them. The world works in miraculous ways. Thank you to everyone who has loved and supported me, even just for a class period. Signing off for one last time, FNR.
View Comments (1)
About the Writer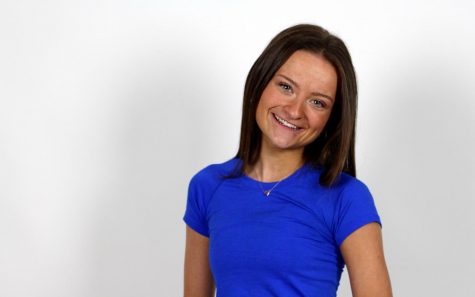 Parker Post, Editor-In-Chief
Parker Post is skipping into her senior year and third year on staff with a whole lot of excitement and an equal amount of fear of peaking in high school,...