First-ever full orchestra performs at UIL
For the first time in high school history, the chamber orchestra combined with select band members to form the first official full orchestra. At Allen High School Feb. 23 and March 1, orchestra took the stage with concert scoring the excellent ranking in addition to full and philharmonic earning the superior ranking. 
"We were supposed to go [to UIL] last Wednesday, but we shut it down before the end of school so our last group went Tuesday," orchestra director Jennifer Vanhook said. "[For chamber, this] was the first year in school history for UIL to do full orchestra; they got sweepstakes."
Concert orchestra, scoring twos on their performance, prepared "Dragon Fire," "Dorian Variations" and "Wood Splitter Fanfare." Philharmonic orchestra, scoring ones on their performance, played "Through the Dark Domain," "Autumn Vows" and Turning Point." Full orchestra, playing "Finlandia," "Nabucco" and "O Waly, Waly," also received ones on their performance. 
"I thought each [orchestra] did a really fantastic job," assistant orchestra director Mary Winkler said. "Of course, all the orchestras have improved since the beginning of the year immensely, so overall I think they did a great job."
Because the band and orchestra class periods do not overlap, the full orchestra had to find time to rehearse together outside of school. Sophomore and four-year violinist Alissa Chang is first chair in the chamber orchestra.
"We rehearsed in class and we've also done a few before-school rehearsals with the full orchestra," Chang said, "I think the main challenges were the typical challenges we have, like staying together and overall, the preparation of it."
Though creating a full orchestra increased the spectrum of song in the orchestra room, it was not without its challenges. Vanhook, Winkler and band director Paul Heuer adapted to diversity in teaching.
"It takes several weeks for us to get comfortable when we're working together," Vanhook said. "I conducted one piece, and Mr. Heuer conducted one piece. Mr. Heuer doesn't do things the same way I do, it's kind of that intermediate phase where you're getting to know each other and feel comfortable."
Vanhook says that by forming a full orchestra, students are able to play real literature similar to that of music in the Dallas Symphony Orchestra.
"You get to a certain point in string orchestra where the music doesn't get much harder until you get to real symphony music," Vanhook said. "It's exciting to push everyone to that level."
Leave a Comment
About the Contributor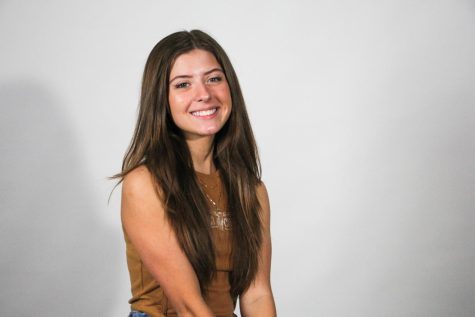 Sarah Hibberd, Editor-In-Chief
All good things must come to an end, but what about great things? Although she's approaching the end of her high school career, senior Sarah Hibberd...