Off air
Teacher reflects on past work as radio producer, host
Beeb. Beeb. The flashing light of 2:30 a.m. wakes Aaron Cappotelli from his sleep. He moseys on over to the radio station arriving at roughly 3:34 a.m. He pulls audio clips from last night's TV shows and award shows. He preps looking over the news stories and reviewing websites for content in between songs. He gathers audio and produces a parody song. At 5:00 a.m. the red light flashed on air.   
Now, these days live in the memorabilia plastered on the wall and on the shelves behind his desk. Memories of the 20 years of radio come back to him with a glance at photos as he remembers, 'Oh, yeah, I did do that.'  
"He met all these inspirational people," daughter Ava Cappotelli said. "He's very humble about it. He doesn't talk about it a lot. He just has his ego wall, and lets everyone else look."
Aaron went to St. Bonaventure University and received his Bachelor's in Journalism and Mass Communications. During his freshman year in college, he started working on the college radio station. By his sophomore year, he was working in commercial radio stations.
"When I was in middle school, there was a guy on the radio that captivated me," Aaron said. "I saw that and was like, 'Oh, that looks great. I think I want to do that.' That was my dream. That's what I wanted to do. I did it for about 20 years, but then life changes."
Aaron produced "Alex in the Morning" on 93.3 and "Jeff and Anna in the Morning" on Mix 102.9 until they got fired, and it became "Tony and Cappy in the Morning," where he was a co-host.  
"It's about going and having experiences that people can relate to or are interested in," Aaron said. "[It's] going to concerts. If there's a comedian in town, going to that, so you have cool things to talk about. Also, trying to balance that with being a dad and going to soccer games or softball games, those keep me out at night."
After Aaron got blown out as a co-host on Mix, he went to University of North Texas for his Master's of Education in Applied Technology and Performance Improvement degree. Then Aaron found a job as an executive producer for Kidd Kraddick in the Morning on Kiss FM where he worked for three years. 
"I was still working radio and decided to go back to college and get my master's degree in education," Aaron said. "So I could learn a little bit about teaching so I could have that as a backup in case the day came where I needed it, I didn't have a job in radio or the day came where I decided I just wanted to move on."
Aaron moved from Dallas to Los Angeles where he was the executive producer for On Air with Ryan Seacrest on Kiss FM in L.A. Looking for greater job security, Aaron quit his job in L.A. to go work a 9 to 5, teaching. 
"The thing that happened was, when I was working in Los Angeles with Ryan Seacrest, I just wasn't happy," Aaron said. "What radio had become wasn't what it once was. It wasn't fun anymore."
"
"He's very humble about it. He doesn't talk about it a lot. He just has his ego wall, and lets everyone else look."
— Ava Cappotelli
Aaron's youngest was about one and his oldest daughter was about five when Aaron decided to leave radio. Aaron began teaching at Highland Park middle school 11 years ago.
"When he was in radio, I was always going off to daycare," Ava said. "Then I'd come back, and he'd be home. Now, we go home together. I see him every single day."
Aaron has met multiple celebrities such as Oprah Winfrey, Justin Bieber, Beyonce, Lady Gaga, Aerosmith, Metallica and John Travolta.
"It's just a part of the job," Aaron said. "It's like, you come to school everyday and you see hundreds of other people. That's what radio was. Those people just happened to be famous."
When Aaron began teaching, he didn't know anything about graphic design, so he taught himself how to use photoshop and indesign. 
"If I could change careers, I'd want to do something like graphic design," Aaron said. "I think it's so fun to do. I love doing it. Some people say, 'well, would you go back to radio?' I might but the industry, it's rough." 
It's Aaron's first year at the district, and he teaches yearbook and photojournalism. He finds teaching similar to radio "like it's a show." 
"He's always making jokes," said yearbook graphics editor and student, Julia McPherson. "He's always playing classic rock. The first time I ever did design edits, I was freaking out because I didn't know how to do it. He sat down and walked me through it."
Aaron realized while he was teaching about five or 10 years ago that he is an introvert. He recharges through running, gardening or watching TV.
"Anybody who's met me post radio career will say, 'You're not an introvert. You're an extrovert because you're the radio guy,'" Aaron said. "They'll come into my class, and I'm teaching and it's like a little show. When the day ends, for my own sanity, I have to have quiet, and I have to get away." 
Leave a Comment
About the Writer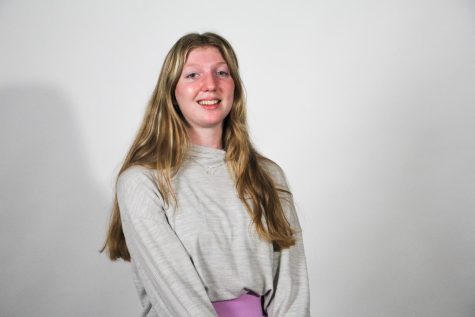 Calla Patino, Editor-In-Chief
Strolling into her third year on staff, senior Calla Patino is ecstatic to be back in the newsroom as an Editor-In-Chief, leaving her summer days of folding...