Debate team breaks records at tournament
The debate team achieved high marks at the grapevine finales last Friday. The policy team broke school records by breaking into the double octo final round.
"It's super impressive," speech and debate teacher Jake Cosio said. "We've never had a policy team actually break at a big tournament before."
The policy event entails debating a resolution the government should act upon. This year, the resolution was if the federal government should substantially increase its protection of native water resources.
"They're talking about that in various ways," Cosio said. "So you'll defend a plan of action for the US Federal Government's sake. And then the negative team will obviously say that's a bad course of action and it goes back and forth through the remainder of the debate"
Teams of two people from each school then debate the resolution. During this debate, seniors Sebastian Ramirez and Jonathan Zanzuri were seated 17 out of 32 other teams in the final round.
"Our record was very good," senior Sebastian Ramirez said. "We went three two: none of our  other policy teams in the past have done so well, and none of our other policy teams have broken to a big tournament"
Along with the policy team, prose team members and seniors Jordan Day and Jude Wheatley got 3rd and 4th place respectively.
"I honestly didn't think I progressed that far," Day said."I thought I might get to finals but I didn't think I did that well. When they were calling out who got what place, they went from sixth to first. When they called out like sixth place and fifth place and I didn't get either of those I was really surprised and really excited for how I did."
The prose tournament entails finding a piece of literature like a memoir and acting it out. The competitor must also have an introduction that gives their opinion on what the piece means to them.
"The hardest part I would say is kind of just becoming the character that you're performing off of," Day said. "Doing that is really hard. You have to really nail their emotions to understand what they're feeling so there's a lot of analysis involved."
For speech and interpretation events, the grapevine tournament was in person at Grapevine Highschool. However, for debate events, the tournament was still online. This was the first time members of the speech and interp team went to an in-person tournament in a year and a half.
"Being able to physically go to a high school and have that experience again, after however long it's been, was amazing," Wheatley said.
Leave a Comment
About the Writer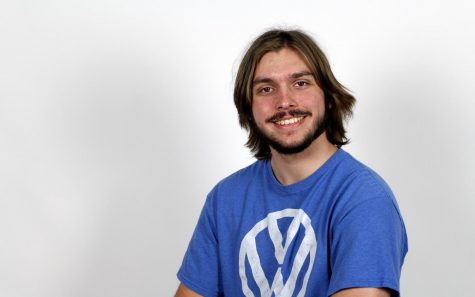 Mathias Alling, LJP Staff
Junior Mathias Alling is entering his third year on The Red Ledger as a section editor. He can often be found riding his bike at six in the morning, at...