Head volleyball coach resigns
Head volleyball coach and girls athletic coordinator Ryan Mitchell resigned on May 10 and will officially leave after the school year ends. He plans to take on the role of head coach at Prestonwood Christian Academy and director of operations at Skyline, a local volleyball club.
"I think I officially made the decision last Monday, May 10," Mitchell said. "First of all, it is really hard. This is kind of home to me, I live in the community and connected to the kids. The kids mean a lot to me. It was a really hard decision and there was a lot of weight on me when I was making the decision."
During his time at the high school, Mitchell led the volleyball team to seasons of victories including the 2020 state championship along with the team's undefeated season.
"I think looking back on memories like all the state championships, and it is about the winning, but it is more about the experiences that the kids and the athletes got by winning," Mitchell said. "Just seeing what this program meant to them, it makes me happy and makes my heart happy that this thing that I have been giving to for years and years has meant something to somebody else."
Mitchell made the decision to move on to other opportunities to spend more time with his family and continue challenging himself in his career.
"My son plays varsity football, so for the first time, I will be able to watch my kids actually play their sports and just get to be a dad for a season of life," Mitchell said.
Current players on the team were coached by Mitchell for up to three years. 
"I was really sad when I found out he was leaving," sophomore Charlotte Wilson said. "He is an amazing coach, but I know that he will do great things at Prestonwood. I hope that the new coach is really nice and involved. Coach Mitchell was really good with talking with us, and I hope the new Coach is like that as well."
Mitchell formed a bond with the community and students through volleyball, and he has impacted several players throughout his years of coaching.
Mitchell connected with the 35 players on the volleyball team on and off the court.
"Every time he sees me or any other player, or ex-player, in the halls, he makes a point to ask how we are doing," junior Maddie Smittle said. "He texts us on our birthdays, and we even take turns babysitting for him. He is and always will be so much more than just a coach to me."
No announcement was made by athletic director Chris Ross about a replacement for Mitchell.
"Honestly, I trust them," Mitchell said. "They are going to make a good decision. This program is very important to this community, and so I feel like they will choose someone that values this program and knows how to take it to the next level."
Leave a Comment
About the Writer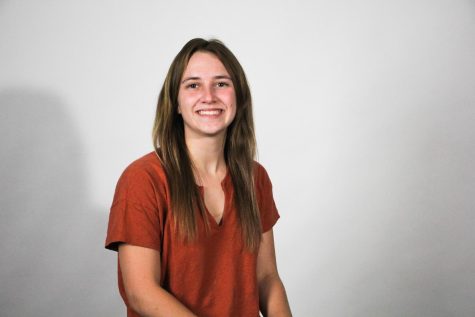 Audrey McCaffity, Section Editor
Beginning her fourth and final year on staff, Audrey McCaffity is more than excited to take on the role of Community Editor. The past four years have been...