School board changes district-wide mask mandate
On Monday, the school board made updates to the district's mask policy. One of the changes made was to remove the mandatory mask requirement for students and staff members after Friday, May 28. Additionally, effective immediately, the school board decided to make all outdoor events taking place in the district mask optional as well. 
"I think this is a step in the right direction since practically all my friends are fully vaccinated, or [have] at least have one shot at this point along with their families, so I think it's good that we finally can open things back up, and get back to normal living," senior Peter Godipelly said.
As a result of the changes, this year's graduation ceremony scheduled for Saturday, May 29 will be mask optional for all students, staff and community members in attendance. 
"In regards to graduation, this is again a poor decision in my opinion," senior Taryn Sutherlin said. "Many people have grandparents and high risk adults coming into town to watch graduation and it takes everyone wearing a mask for protection to be high. Not wearing a mask for your own comfort is a selfish decision, yet one that many people in Lovejoy will be making at graduation. A mask mandate is the only way to keep everyone fully safe and healthy."
Since the mandate changes will be enforced after the last day of school, the remaining two weeks of the year will continue as they have been when students and faculty are inside district buildings. 
"The new mask mandate, from what I understand, is not going into effect until after the last day of school, so it really is not going to impact the learning environment for my classroom because we still have to wear them till the end of the year," preAP biology teacher Theresa Dollinger said. "They will not have masks at graduation, which I think for photo purposes and memory purposes. I think that'll be nice as long as we are good to be a little bit spaced apart, and we are fortunate that in our community a lot of kids, and a lot of teachers have had their vaccinations, so I feel like we are feeling a little bit safe."
Although this change was made toward the end of this school year, it falls in line with next year's mask-optional policy inside and outside the buildings in the district. 
"Thank you to our amazing students and teachers for respecting our policies and supporting the efforts to finish the school year with our focus on protecting and ensuring the best opportunities for success thru end of year testing," school board president Barrett Owens said. "We appreciate the hard work and selfless attitudes that have gone into this school year. We all have experienced much growth and achieved great things in the face of adversity."
Leave a Comment
About the Writer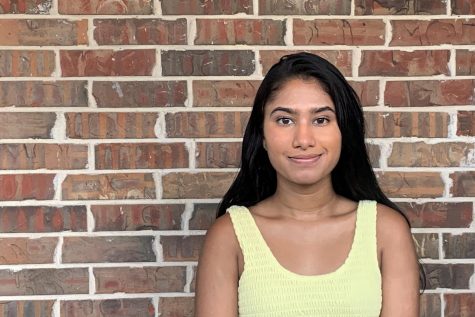 Arushi Gupta, Editor-In-Chief
Transitioning into her fourth and final year on staff, senior Arushi Gupta is thrilled to take on the role of Editor-In-Chief. After spending nearly six...