Only time will tell
Siblings bond over UIL rivalry
Stacks of practice papers flatten creating the base. More scribbled, faded pencil math form the fence, behold the arena. Two sibling knights, senior Andrew and freshman Hannah Mao, enter the gate of the Rock Hill joined by their competitors. They only get 10 minutes to morph the problems into swords of answers. 382=1444. The knights are off; one build for Andrew, one for Hannah. 11127=2997. Pencils flutter away as the swords grow higher. 7.777…-3.333…=409, 449. Time's up. The fog clears and one sword stands taller by 30 answers. 
Hannah is declared the winner, and Andrew, right after her in the polls, vows to beat her in the next face off on the regional level. Even through the number battle of UIL, Andrew and Hannah's bond has strengthened. 
"When we're not doing some fun activities, we're just sort of goofing off in the kitchen," Hannah said. "It's like we don't exist in the same house because we're both very busy. He's doing work. I'm doing work. We can't really interact as much, but with UIL, it feels like we're together more than otherwise, and we can be closer as a sibling pair."
Andrew competed in Number Sense, Calculator Applications, Mathematics and Copy Editing. He placed second in Number Sense, third in Calculator, fifth in Mathematics and second in Copy Editing.
"He has worked very hard to be where he is right now," Hannah said. "I'm sure he's also disappointed in himself for not being better, but he's done great. He has put a lot of effort into excellence, and it seems to have paid off enough that he is one of the top people in these math events and in all other fields."
Hannah competed in Number Sense, Calculator Applications and Mathematics. She placed first in all three events.
"To be a freshman and win all three events in math, it's almost unprecedented really," Andrew said. "I expect great things in the future in UIL. Based on her district score, and my district score, she's probably not going to go to state in all the events, but I think she can definitely work, maybe even be qualified in many events for state in the future."
Andrew and Hannah practice together through sharing tips and having mini competitions.
"When she performs well, it makes me want to perform better, not necessarily to beat her, but you know just see what my full potential is," Andrew said. "If she can do it, we're related. I should be able to do similarly, maybe not in Mathematics but Number Sense."
Keith Christian, their Calculus teacher, provided Hannah and Andrew practice problems in Number Sense.
"I think it's awesome," Christian said. "I would expect them to. They both are very capable mathematically, but they also practice, and put in the effort to do well."  
Andrew focuses more on Copy Editing and Number Sense for Regionals compared to Hannah, focusing more on Mathematics.
"Math has always been one of my passions," Hannah said. "I think that success in this field [is] showing that I am a representative of excellence in this field. I can represent my school. It's fun, mathematics, this UIL stuff. Also it's entertaining. It's enjoyable, and it's nice to do UIL in math."
"
He has put a lot of effort into excellence, and it seems to have paid off enough that he is one of the top people in these math events and in all other fields.
— Freshman Hannah Mao
Since Hannah is a virtual learner, and Andrew is in person, they don't see each other throughout the day, but UIL gives them a way to spend time together. 
"Without him being there, I probably wouldn't be working as hard on UIL," Hannah said. "I just have to beat him now. If he didn't exist, if he wasn't striving for this just as much as I am, then I would probably not be practicing as hard as I am."
With the age difference, this is the first time Hannah and Andrew are competing against each other in UIL. Andrew has participated in UIL math events since the third grade.
"I'm basically doing more practice for Numbers Sense now than I have in the last eight years," Andrew said. "I really want to qualify for Number Sense. I've been doing it for so long, and also Copyediting."
Andrew and Hannah will compete at UIL Regionals on Friday, April 16 and Saturday, April 17.
"He has a very honorable way of fighting like, 'Oh every resource I get I'll share with you so I can win on my own merit,'" Hannah said. "We practice on the same material, [so] I was like, 'Oh, our natural math skill is going to shine through whoever did the most practice.'" 
Andrew and Hannah participate in debate, but Andrew does policy and Hannah does Lincoln Douglas. Likewise, Hannah plays Viola, and Andrew sings in Choir. Their diverse yet similar extracurriculars play a role in shortening their sibling time. 
"We're both pretty busy people," Hannah said. "I have a lot of extracurriculars, he has a lot of extracurriculars. As busy individuals, we don't get a lot of chances to actually like, 'Okay, this is the designated family bonding time and we're gonna hang out together.' The fact that we can compete like this is what ties our bond together. The fact that we can come head to head on an activity together is what fuels our bond."
Leave a Comment
About the Writer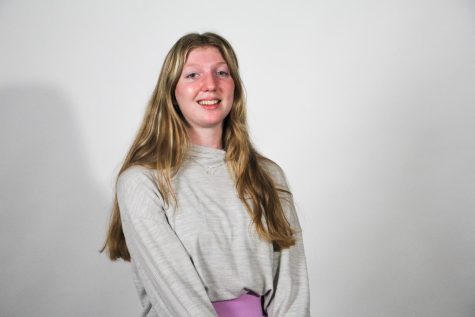 Calla Patino, Editor-In-Chief
Strolling into her third year on staff, senior Calla Patino is ecstatic to be back in the newsroom as an Editor-In-Chief, leaving her summer days of folding...