Media department wins multiple national awards
This past year, The Red Ledger (TRL) earned the Columbia Scholastic Press Association's (CSPA) highest award, the Gold Crown Award, for digital news and the NSPA Online Pacemaker Award. The Leopard Yearbook also received a Silver Crown for print yearbook and an Outstanding Theme Package award at the Gloria Shields Workshop.
"With COVID-19 going on, the fact that this past year we've been able to continually produce, not just content, but quality content's awesome," newspaper and broadcast adviser Kara Adler said. "I think as long as we continue on the path that we're continuing on, it just means success for the paper, and the future."
TRL was one of 13 online school publications in the nation to win the Online Pacemaker. This is the first year in school history that TRL received the Pacemaker Award.
"Winning these awards is a big accomplishment for our staff, especially with it being our first time winning a Pacemaker," editor-in-chief Lindsey Hughes said. "It really shows the hard work that our staff has put in even with COVID-19 and a lot of people being virtual."
 TRL was also one of nine digital publications to win the Gold Crown.
"The cool thing about both these awards, and why it's such a huge honor to win them, is [the judges] look at your online newspaper in entirety, so it's a really good reflection of how well you presented information to your community," Adler said.
Also from the CSPA, The Leopard won the second highest award, the Silver Crown, for the second time.
"CSPA Crowns are national level awards, so the yearbook staff was extremely excited to receive one," editor-in-chief Anna Beard said. "This is our second year we received this award, so we were all proud of our progress as a yearbook staff because we hadn't achieved this level of success in the past."
The Outstanding Theme Package award was given to the yearbook during the virtual Gloria Shields Workshop last summer. It was awarded to yearbook staffs in each virtual group at the workshop.
 "The editors worked on theme development and design for our book over Zoom all week, which was definitely a learning curve, so we were all excited to receive this award," Beard said. "I definitely feel like our hard work paid off."
The Leopard was also featured in the Jostens Look Book 2021.
"The awards are like an icing on the cake for us, but ultimately at the end of the day, I'm just glad we have a good product that kids want, and that their parents respect, and that they want to have," yearbook adviser Rebecca Pollard said.
Leave a Comment
About the Writer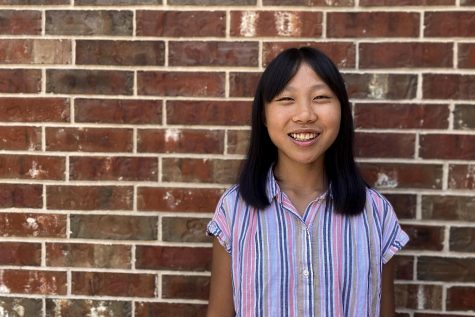 Alissa Chang, Staff Writer
Freshman Alissa Chang is excited to join The Red Ledger as a staff writer. After joining journalism on a whim in seventh grade, Alissa was surprised by...