Student collects glasses for senior project
Senior Zachary Nakamura organized a prescription glasses drive with Allen Eye Associates for his senior project. He has accepted donations since November and will continue to accept them for the month of January.
"For my senior project, I am collecting glasses for people in need within the McKinney area," Nakamura said. "The goal is to make sure people within our community don't have to worry about glasses, since good vision is mandatory for daily life."
People can donate prescription glasses and sunglasses and drop them off at 1609 Whirlaway Court, Allen, Texas.
"I have been wearing glasses since second grade, and glasses are such an important part of my life," Nakamura said. "I couldn't imagine going through life without clear vision. I knew that glasses were expensive, especially with high prescriptions, so I wanted to organize a drive to help get glasses to those in need. Clear vision is almost mandatory to functioning daily, and price shouldn't be a factor in not having clear vision."
He worked with his optometrist, Dr. Jay Lollar at Allen Eye Associates because of their experience with community events. 
"I had to think of who I could work with to both organize the drive and donate to after the drive is over," Nakamura said. "I chose Allen Eye Associates because they have been my optometrist for a while, and they had organized glasses drives before. Plus, if I gave the glasses to them after the drive, I knew firsthand where they were going."
Allen Eye Associates uses these donated glasses to give back to the community.
"We always have collections going on here for eyeglasses because we use them for mission trips and community events to give children glasses that need them when we do eye checkups," Allen Eye Associates office manager Shelly Sanford said.
As a COVID-19 safety precaution, Nakamura set up a contactless donation process, where community members could drop off their glasses at a collection box outside of his house.
"[I look forward to] seeing the reduce, reuse, recycle motto fully utilized, taking something that people would throw away (an old pair of prescription glasses) and finding a second life for it," Zachary's mother, Thanh Nakamura said. "Also, the potential to change someone's life by giving them the gift of vision."
Leave a Comment
About the Writer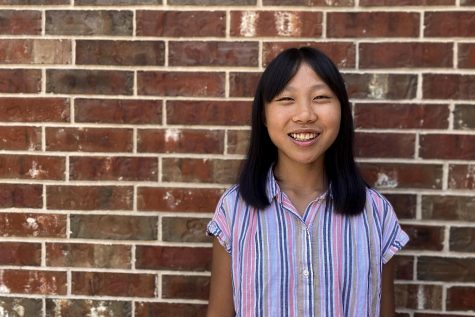 Alissa Chang, Staff Writer
Freshman Alissa Chang is excited to join The Red Ledger as a staff writer. After joining journalism on a whim in seventh grade, Alissa was surprised by...