Students win YoungArts award
Visual arts seniors Luis Sandoval and Kris Marshal, along with alumna McKenna Christiansen, placed in the 2021 YoungArts Awards on Dec. 3.
"We were told about it through class," Marshal said. "We had another student come and talk about it. He told us about the finalist program, and winners would get access all to these resources. There was a weekly post. All the winners have these resources and contacts."
The YoungArts Awards recognizes young artists for work ranging from theatre to classical music. A total of 659 artists won awards nationwide. Award winners at all levels will receive between $100 to $10,000 in cash prizes along with scholarships and other support such as lessons from leading artists.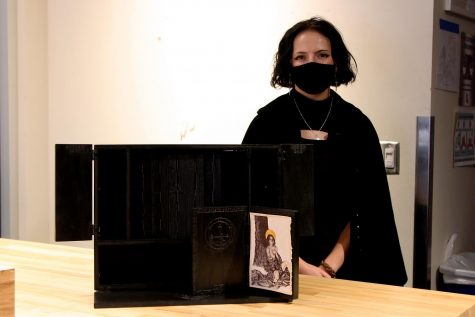 "It's a nice thing to have since you're connected to other YoungArt award winners, and you get to talk to other students your age and past winners," Marshal said. "For me, it's mostly about the contacts I'm getting from this."
The YoungArts Awards are put into three levels: finalists, honorable mentions and merit awards. There is a range of awards offered. All three students won an award in the fine arts category. Marshal won a merit award, Christiansen and Sandoval won an honorable mention award. 
"For my work I submitted, I created a monopoly game board which was centered around the idea of my travels in Mexico during the summer," Sandoval said. "For that work, I went around and took pictures of the locations I typically visit, then painted the locations onto pecan wood, which is significant to where I stay in Mexico because my parents have a pecan grove there. I used pecan wood to construct the game board. I made sure to include different aspects of the travel, so there are transportations just like in the game of monopoly. I wanted to keep it colorful because Mexico is a very colorful place."
All three students started their projects last year in the spring semester. Marshal and Sandoval created their works while in AP Studio ART-2D. Only two students at the high school won the award previously: 2018 graduate Eli Ruhala and 2019 graduate Katie Miller.
"
I wanted to keep it colorful because Mexico is a very colorful place"
— Luis Sandoval
"It started out with me making digital images and rendering different visual forms," Marshal said. "It eventually ended up with a more personal shift of me drawing myself in different religious poses and putting myself in places of biblical characters in a sense. It finished off with me making this series of books bound in wooden covers,pen drawings,gold leaf, and burning sigils into the wood. The final piece was a bookcase I made. It was all hand crafted, and I stained the wood. I burned different markings into it, and it held all six books I made."
Christiansen plans to go into curation or become a museum director after she graduates college. She is not studying anything art related currently.
"For YoungArts, I submitted two pieces from my junior year and then eight images from my senior year body of work all relating to my relationship with my family," Christiansen said. "In these pieces, I was working to create a data driven language to document moments in time or events within my familial unit to create a permanence that I was in complete control of. My junior year pieces were domestic objects that I took apart and reorganized into modular compositions. My senior year pieces dealt with more abstracted text and writing being my mark and means of documentation, and I later went on to pulling my own paper and using my own bedroom wall as a template to record dates with over 15,000 handdrawn tally marks."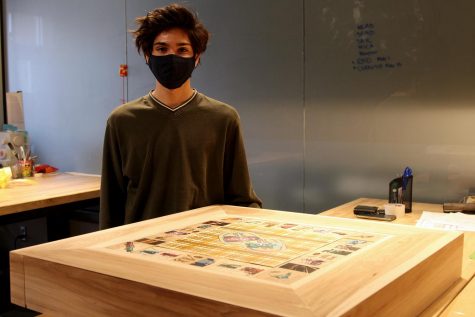 Marshal and Sandoval will be working on a new body of work this year in AP Studio Art Drawing for their second semester in the class.
"Saying that I am proud of them is a huge understatement, yet my pride in them is not justified simply by this award," K-12 visual art coordinator Brice McCasland said. "I love that they are recognized as some of the best artists their age in the country, but I already knew that about them. What I love about Luis, Kris and McKenna is that their work provides a clear and beautiful representation of much more than their artistic ability. Each of them create work that is personal, honest, and driven by a self determination that is as rare as they are. They deserve every accolade that comes their way."
Leave a Comment
About the Contributors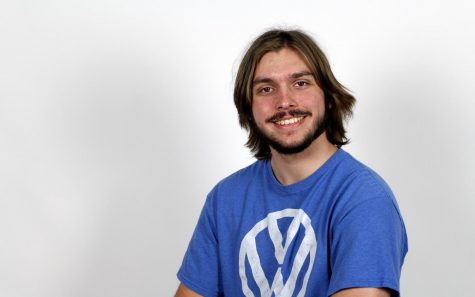 Mathias Alling, Section Editor
Junior Mathias Alling is entering his third year on The Red Ledger as a section editor. He can often be found riding his bike at six in the morning, at...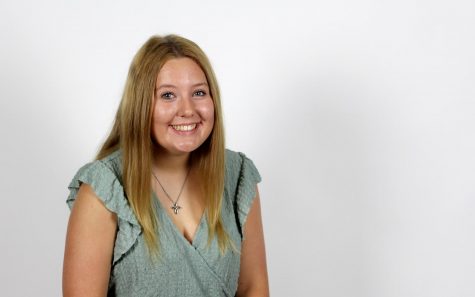 Olivia Lauter, Section Editor
Heading into her fourth and final year in TRL, senior Olivia Lauter could not be more thrilled to soak up every last minute of shooting sports, events...