Senior Goodbye: What a wonderful life
We will never experience something like this again. For some of us, we've seen the same 300 faces every day, every year, since kindergarten. There's a certain charm about long hallways with awkward eye contact made, and assigned seating and the unlikely friends that come from it. Lovejoy was our own small town growing up. Everyone knew everyone, and we all had a place. 
I've experienced many roles over the past four years especially: student, marcher, musician, competitor, section editor, section leader, editor in chief, and drum major. I poured everything into these, so much so that my identity weaved into them. Now, I'm left with the memories and how they changed me. If my timid, socially anxious middle school self knew I would do all this in high school, I probably would have opted out in fear. This place, though, does something to people.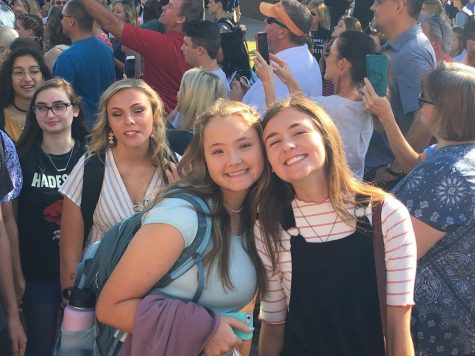 Some people say "you couldn't pay me to do what you do–" waking up early, spending days in the heat, devoting nearly all at-home hours to even more school. But once I started, I realized I wouldn't do it for money either. All of these student council, athletic, academic and extracurricular unpaid jobs we take were sought after and worked for. We choose to do this, for free, and the self-motivation that pushes us to do something great in high school is what changes us. 
I remember the seniors I looked up to each year, and I remember how it was always harder to say goodbye. I remember moments when I looked at the drum majors on the podium or read an article by the editors, and I decided it would be a dream to fill their roles one day.
You spend your whole life anticipating being one of them, and it's over all too soon.
It's intimidating to remember how many people I've met over the years while chasing those goals: all the band members, Red Ledger staff members, competitors at UIL band and newspaper competitions, all my classmates, all my teachers. Coming into high school, I planned on making as small of a footprint as possible, and seeing that I ended up becoming so involved is insane.
So as one last step into Lovejoy history, I must share a few things I've learned through it all.
Test your limits. Fall 2016, unathletic, timid, but sometimes obnoxious freshman me marched my first entire halftime performance. As a C-team basketball quitter and certified middle school clutz, I once considered leaving band in fear that I would fail. Somehow, I put my fears aside and stayed. That August I went on to oversleep for my first day of what turned out to be the most influential and rewarding commitment of my life. Often, my best experiences began in fear and defeat.
"
People are amazing– individually created and loved, and independently inspired and opinionated."
Listen and ask questions. If there's one thing interviewing has taught me, it's the value of listening. People are amazing– individually created and loved, and independently inspired and opinionated. One of my favorite stories for TRL I wrote after a 15 minute interview with a stranger working at the State Fair of Texas. He was sitting alone with his airpods in, surrounded by a booth of stuffed animals and bubbles. There was something intriguing about this unapproachable person surrounded by symbols of child-like joy. There's always a reason why. You can learn someone's life story just by asking.
You will leave a mark. You only get to decide what that mark looks like. No matter if you decide to hide in the shadows or take every opportunity that comes your way, you will impact thousands of people in your lifetime. For better or for worse, you will never know the full extent of your influence on people. I believe that if  former drum major Anna Turner had not encouraged me to try out to be drum major freshman year, my entire high school experience would look different. If you have to make a mark, make one that is intentional, and good, building encouragement and inspiration that will last for years to come.
I can never convince you all that I will truly miss you. That I cherish those short-lived new senior friendships, those belly laughs on tough days, and that in graduating I am leaving a part of me behind. However sad it is, I will graduate this summer with a smile on my face, loving how high school changed me, and bracing myself for the changes to come.
Leave a Comment
About the Contributor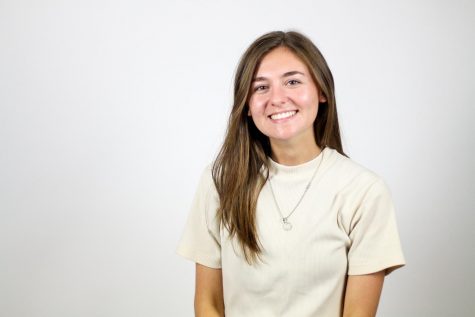 Lily Hager, Editor-In-Chief
With the coming of her fourth and final year of high school, Lily Hager eagerly awaits the senior perks that accompany all who suffer from "senioritis"–including...