Senior Goodbye: Push the red button
As I am writing this last column, I have undergone most of my high school career. I have a mere 31 school days until graduation and the weeks are flying by faster than they do over summer vacation or winter break. As I look back on the last four years of my life, I can't help but remember all of the failures I had. Everybody likes to talk about their greatest accomplishments and achievements in high school, but few recognize the fiery wreckage of mistakes that helped them achieve that. For me, my lowest points in high school were blessings in disguise. They helped me grow, evolve, and learn about the kind of person I am and who I want to be surrounded by. And it all starts with a shiny red button… don't you want to press it?
We have all seen or heard of the cliche "Don't press the red button." It has been played out in movies, video games, and television shows countless times. A clearly labeled bright red warning that is ignored by a character written solely for comic relief. As viewers, we laugh or hit our foreheads in disbelief. "How does someone just blow up an entire planet or get ejected from an airplane with a simple click of a button?" Maybe the red button trope is the reason why quitting or giving up has such a bad connotation. People seem to attribute quitting to a spontaneous act with a lack of reasoning, simply "pressing the red button" on life. However, as someone that has quit a variety of different activities, I know that it is not the act of negligence that so many think it is.
The first time that I really quit something was club soccer. After nearly 13 years of competitive leagues and travel teams, I had my eyes set on playing at the next level. But as I began to evaluate my dreams for the future, I realized that soccer was not what I wanted to do at all. I wanted to be able to spend the rest of my high school life doing things I was passionate about. On one random May afternoon, I pressed the eject button on what I thought was my entire identity. For a while, I didn't know what to do with my free weekends. But I soon filled that time by getting a job, volunteering, and running cross country. The anxiety that was usually in my chest before games and practices vanished. I felt free and happy.
As my junior year of high school started, I became extremely overwhelmed with the rigor of five AP classes, cross country, and work. I decided that the best thing for me was to quit, yet again. I turned in my two weeks at my job, and with my last shift came more time for homework and a return to a healthy balance of activities. Of course, the answer to every little mishap in life shouldn't be quitting.
My biggest challenge of junior year was undoubtedly AP Physics. Within the first week of school, I understood the class wasn't for me. I am a self-classified "English and Social Studies person" and have always thrived in those classes. While I did consider dropping the class, I stuck with it the entire year. While my friends and peers seemed to thrive, I had trouble comprehending what torque even was. I attended countless tutoring sessions and bugged my friends to help me study to no end. However, that class taught me the importance of persistence and picking myself up from the ground even when I didn't understand the difference between centrifugal and centripetal acceleration.
As we near graduation, I can assume plenty of seniors, like myself, want to stay in this moment for as long as we can. We don't want to "push the red button" on high school and leave behind what once was our whole identity and life. But if I've learned anything from high school, it's that memories don't ever fade.While that red button may have blown up my entire world a time or two, it also made opportunities for finding new passions and meeting other people that I never would have exposed myself to. What we do is always temporary even if we feel like it will last a lifetime. Although graduation will force us to eject ourselves from the small town of Lucas, it will allow us to grow in new ways while still remembering our times from Lovejoy.
Leave a Comment
About the Writer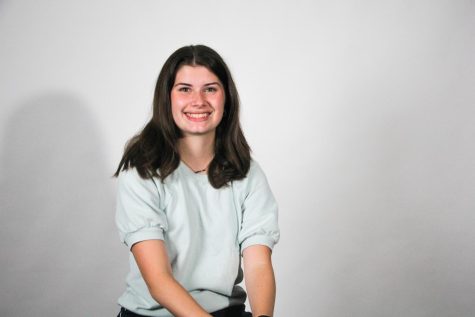 Eleanor Koehn, Section Editor
Although Eleanor Koehn is a senior, this is only her second year on staff and her first as Arts and Entertainment Editor. When she is not reviewing and/or...