District considers new phone policy amongst young students
An ongoing discussion regarding the lack of enforcing put onto the cell phone policy has taken place within the district's parent community. Words transitioned into actions this spring when a survey was sent to all district employees from the Interim Superintendent Dennis Womack on March 29 about the existing cell phone policy, student discipline and input for improvement in the middle school and below. Survey responses were due no later than April 5.
"We should not be negligent in enforcing something that is taking away from someone's education," associate principal Teresa Dodson said.
Based on the information collected from district faculty members, an additional survey was sent to district parents on April 12 regarding student use of cell phones, data plans, parental expectations for their student(s), the district's existing policy and recommendations for reevaluation.
Parent petitioners are requesting that students K-6th be required to keep their phones powered off for the entire school day and 7th and 8th grade be required to also keep their phones powered off for the entire day unless otherwise directed by their teachers. Lovejoy parent Ana Rodriguez said she thought long and hard before signing the parent petition for an updated cell phone policy.
"I thought of how attached my 7th grader is to her phone, and the detrimental effect this is having on our relationship because she prefers to be on her phone than to interact with her family," Rodriguez said. "I thought, 'This dependency cannot be good.' She and other kids are missing out on living life because they are just interacting through screens."
On Tuesday, April 30, the district underwent data analysis collected from the parent's surveys to detect any correlation to the existing policy and see if there was any room for improvement.
"[A new policy] could have a positive impact on the school district as others view it as a district that is progressive and proactive seeking the welfare of students first," Rodriguez said.
"
I don't think the reasons listed in the [parent] petition were especially relevant. I think their points were reasonable, but if parents agree with that then they just shouldn't give their kids phones."
— Senior Estelle Omotayo
Although high schoolers were not mentioned to be affected by the new policy in the petition, seniors in English IV were assigned to complete a persuasive text analysis assignment over the petition for a "Smarter Cell Phone Policy".
"I think the students will benefit from this a new policy," senior Arlissa Rodriguez said. "Although they probably won't like it, they'll be able to disconnect from their phones and connect with their peers in person."
Senior Estelle Omotayo said she thinks cell phone use should be an individual family's choice not a school board policy.
"I don't think the reasons listed in the [parent] petition were especially relevant," Omotayo said. "I think their points were reasonable, but if parents agree with that then they just shouldn't give their kids phones."
Dodson said she doesn't think there will be any new policy that is very restrictive.
"[At the high school], it is about the management of cell phones during instructional time," Dodson said. "I think it would be ridiculous for the administration to not allow cell phones on the high school campus."
Based on how closely related the existing policy is from the survey results, a parent information meeting on proposed changes may be held.
"Every summer, each campus revises its student handbook," Dodson said. "If prompted, the campus will seek approval of reevaluation of the cell phone policy from the school board."
If there is any policy change, it must be presented to the Board of Trustees and approved. The administration will take the Student Code of Conduct to the Board for review and adoption. Due to 2019 being a legislative year, there might be a need for several updates based on the legislative session that may result in an August Board adoption. A decision about the policy change will be made before the new school year begins.
Leave a Comment
About the Writer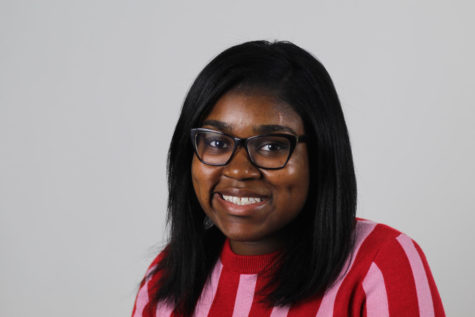 Nnenna Nchege, Staff Writer
Senior Nnenna Nchege is entering her second and final year on The Red Ledger staff. As Nnenna prepares to end her journey at Lovejoy, she is proud to spend...