'It's about the giving'
Students sell cookies and more to raise money for American Heart Association
Hang on for a minute...we're trying to find some more stories you might like.
With a goal of raising $2,000 for the American Heart Association, students are selling homemade cookies and stuffed bears outside of teachers Sherria Bracey and Renuka Venkataraman's classroom on Thursday Dec. 14 following every Friday until Feb. 4.
Students can buy a bag of two cookies for $1, a small bear for $5, or a bear-gram for $20.
"The larger bears– there is two for $20," Bracey said. "So if you buy those, one you can give to someone at the school, and then the other will be donated to a child that is in a children's hospital in the DFW area. We will take down the name of the person you want to give it to, and then before Valentine's Day, we will deliver those little bear-grams."
Bracey said this is their second year of selling cookies after raising $1,000 last year. The sale started in 2016 after the department recognized a lack of school participation in the cause.
"District wide, we participate in [events for] the American Heart Association. Most of the time at the elementary schools they are jumping rope or [participating in] Hoops for Heart– doing something," Bracey said. "So when our director looked at our services for the district, no one from the high school was participating in [events for] the American Heart Association, so Mrs. Renuka and myself, we are the go to for the high school for the American Heart Association."
Because all of the supplies necessary for baking the cookies were donated, the sale will donate 100 percent of profits to the cause.
"It's about the giving. If the kids can see the benefit of another little child that is in the hospital with heart issues– it's the giving just to see their faces to get a teddy bear," Bracey said. "We take stuff for granted sometimes. We really take stuff for granted. When you don't know someone with a need, it might not affect you, but to see the little kids' faces [and to know] that we are giving back– that is part of our graduate profile. We are givers, and that is what we are doing."

About the Writer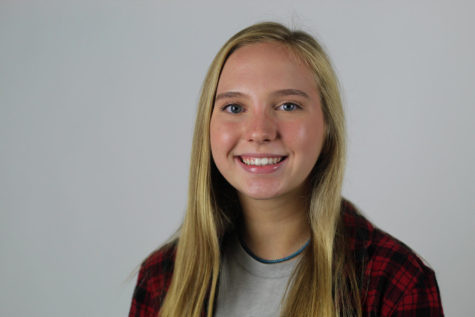 Madeline Sanders, Editor-In-Chief
Junior Madeline Sanders is entering her third year on staff for The RedLedger and is pumped to be Editor-in-Chief alongside her partner-in-crime, the lovely Liliana Hager. The two first met in seventh grade journalism, and are more than ready to tackle junior year and TRL together. Outside of the newsroom, Madeline enjoys spending her time making art (even though she isn't very good), hanging out with friends, listening to music (every kind under the sun), running, reading her Bible, going to YoungLife, watching old vine compilations, and driving her thunderbird. She also enjoys the finer things in life including throwback One Direction, the chocolate fudge iced brownies from the Walmart bakery, Honeycomb cereal, college football (gig them), but most importantly, dogs. However, she does not enjoy wasps, olives, the word 'crust,' disorganization, and fake nails. Madeline tries to live like she is at camp 24/7, which mainly is her excuse to wear a t-shirt, Chacos, and Patagonia shorts as much as possible. Fueled by kombucha, chocolate brownie clif bars, and the musical stylings of Fleetwood Mac and Ben Rector, Madeline pushing herself to make this the best yar of TRL yet.