Annual 'Fine Arts Festival' to showcase music and art pieces
Hang on for a minute...we're trying to find some more stories you might like.
Diverse, colorful pieces of artwork envelop the gallery room, music fills the halls, as students of the various fine arts programs prepare for the annual Fine Arts Festival. The festival will take place at the high school on Friday, Dec. 1 from 6:30 to 9:30 p.m. and Saturday Dec. 2 from 10 a.m. to 9 p.m. The festival highlights student's progress in the various Fine Arts programs while also honoring their work. Fine Arts Director Fela Mathy said she hopes the festival will bring students together just as many sporting events at the high school do.
"Unlike athletics, most of the fine arts don't have a Friday night football game where you have a following every Friday," Mathy said. "It's an opportunity just to bring as much of our community together as possible and hopefully engage other people to want to come out and see the different things that we do."
Art one and AP art teacher, Amanda Beller said the visual arts is all inclusive, showing work from different levels of expertise and the process to improving. "One thing that's important about the visual arts is that every single level, all kids have an opportunity to be involved," Beller said. "You can see work from a kindergartener and see work from an AP Studio 12th grader and you can see that transition at your own pace."
Orchestra will also showcase pieces at the festival ranging from lighthearted holidays songs to a "challenging, professional level" piece. "It's required a lot of practice and should be a surprise for the audience who has never heard us play such a hard song," Senior Turner Thompson said. "We have worked really hard on the music for the past few weeks and anticipate a really exciting show this year."
The Studio dance program is another featured part of the Fine Arts Festival. Sophomore Haley Bennett hopes their dance performance at the festival will help spark interest in those who may want to join."I hope the performance will encourage and motivate young dancers that aren't in high school yet to join drill team or any dance class at the high school," Bennett said.
Mathy said the addition of the new fine arts facilities will add more interactive options to this year's festival. "I think the biggest difference now is all of the spaces that we have to showcase work as opposed to having to make up spaces in the past," Mathy said. "The Fine Arts dance gym is going to be used more this year for different kinds of classes. You can come down and learn how to do colorguard flags and rifles. The dance department is also going to offer dance classes as demonstrations. This will also be the second year we have the beautiful art gallery and get to showcase art in that space."
Whether it's showcasing art or performing for an audience, the fine arts department prepares students for what lies ahead in future professions"I think it's good for kids to have a public performance, public show of their work," Mathy said. "If any kids choose to become an adult that does something in the fine arts, this is reality. This is what you do as professional performing artist or professional visual artist. "So I really hope that students take away a sense of 'This is what it's like if I wanted to do it in real life'.
Mathy said that although some students won't continue in fine arts after high school, the lessons they learn will continue to impact their lives. "I realize that not every kid in fine arts is thinking about this as their livelihood, but I hope they take away the way that the arts touch people," Mathy said. "I hope the students realize the craft that they get to share with our community impacts people in all kinds of ways."

About the Writer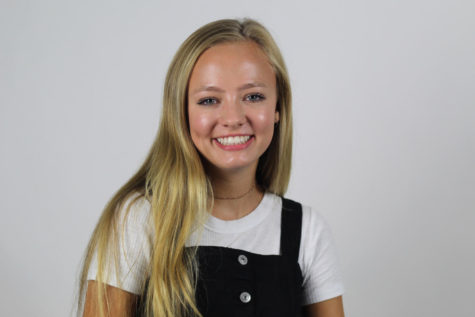 Lulu Butler, Section Editor
As her third year working on The RedLedger staff, junior Lulu Butler serves as the class' News and Opinion editor and is eager to start another exciting...