'Seize the day'
English teacher Roxanne Ward to retire after 37 years of teaching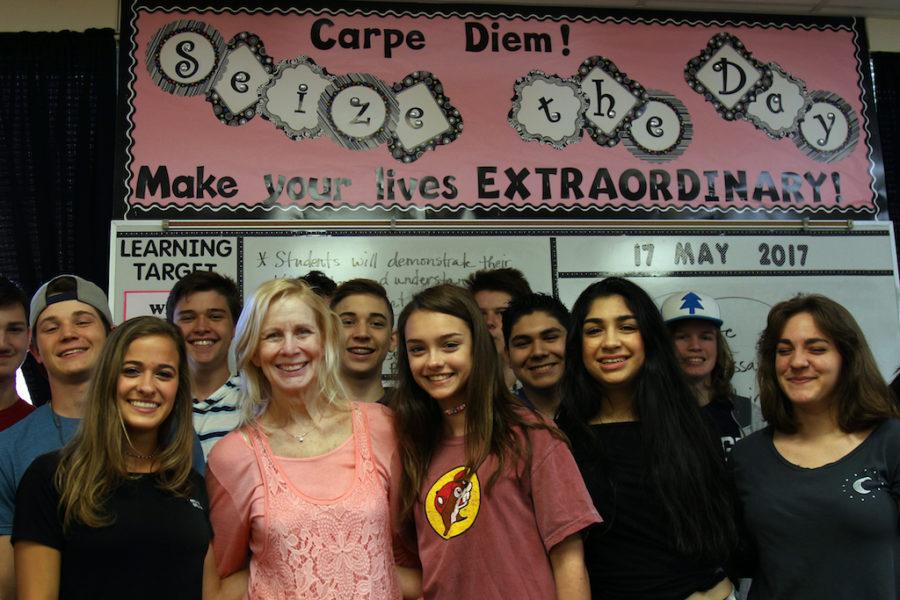 As the second-period bell rings, students file into her room for her first class of the day. While they shuffle their feet in and pick up assignments, they see the familiar words "carpe diem" plastered proudly on the wall.
At the beginning of each school year, she explains the importance of "carpe diem," meaning "seize the day." Now, after 37 years of teaching, English I teacher Roxanne Ward is seizing the day by retiring with plans to live her life to the fullest.
"The meaning of [carpe diem] is really a motto for me," Ward said. "We only have today. We're not guaranteed tomorrow. What we did in our past, we can learn from it, but we can't change it. So I look at every day as a new day, a new opportunity, and I want to live it to the fullest."
After she officially retires, Ward has plans to spend more time traveling with family and friends.
"I've kind of got a to-do list," Ward said. "We're actually going to the British Isle this summer and Norway, and then Panama in the fall. Hawaii in the spring, and then in a couple of years our dream trip is Australia and New Zealand."
She also plans to spend more quality time with her loved ones.
"I'm going to spend a lot of time with my grandchildren who are young enough for me to be really a part of their lives right now before they outgrow me," Ward said. "I am supposed to take my oldest grandchild on a short cruise for her 11th birthday. So, we're gonna go do a five-day cruise before school starts."
After growing up in Abilene, Ward attended Abilene Christian University and later transferred to the University of Mary Hardin-Baylor to receive her teaching degree. From there, she began her career.
"My first teaching job was in Klyde, Texas," Ward said. "I taught sophomore English and coached basketball and cross-country."
For over half of her career, Roxanne coached "everything" from basketball, cross-country, track, volleyball, and tennis. Ward came to Lovejoy in 2007 when they added sophomore-level curriculum. At the school, she coached volleyball and tennis for six years.
One of Ward's favorite memories comes from taking players on the school's tennis team to state in 2009 and winning.
"Experiencing coaching when your kids are winning is just incredible," Ward said.
In the ten years that she has taught in the district, Ward has worked alongside AP seminar/AP research/English I teacher Cheryl Anderson.
"Mrs. Ward and I began with Lovejoy the same year, [the second year Lovejoy was open]," Anderson said. "We were both hired as 8th grade English teachers, along with Mrs. Snodgrass. The three of us met every day to plan and create a solid 8th grade curriculum. Mrs. Snodgrass and Mrs. Ward brought with them their massive experience, and I sat, mostly quietly, and absorbed their brilliance. They are a huge part of the teacher I am today."
Anderson said the English department will miss Ward in the years to come.
"I can't imagine the English department without Mrs. Ward; it's going to be weird, for sure," Anderson said. "She's literally been here every year I've been here, so I don't know what it'll be like without her. I do know that she has left us in very good shape. She has made sure that any new teacher to freshman English can walk in and continue the strong curriculum."
To Ward, the school is a family.
"The people I work with, my coworkers, I enjoy working with them, and collaborating with them, and learning from them, and helping them when I know something they don't know," Ward said. "We just kind of help each other."
Anderson said Ward's "best quality is her compassion for her students and her passion for teaching and learning." Her personality and kindness sets her apart around the halls of the school.
Ward also invests in her students to make sure she is doing everything she can to help them succeed.
"She's really nice," freshman Haylie Peschke said. "She is interested in your life. She won't just say, 'Ok, you didn't turn in your homework, here's a lunch detention.' She wants to know why, and she wants to understand if there is anything that she can do to help you with your schedule."
Ward's passion for teaching comes out of her love for kids.
"My favorite thing about teaching English is my favorite thing about teaching: it's working with kids," Ward said. "That's what I'm going to miss the very most. It makes me feel like I'm contributing, that I'm helping people along as they learn–not only learning English, but just learning to be good people. Learning how to grow up."
Through her teaching, Ward said she hopes she left a positive impact on all of her students.
"I hope the students that have sat in my classroom feel like they have learned English, but that they have been treated like young adults and treated fairly, and that they are prepared to move to the next level in their education," Ward said.
Throughout her career, Ward has seen her graduated pupils grow up into themselves.
"You know I've taught long enough that I've taught kids of the kids I've taught, and that's really cool when they want to come up and introduce you to their kids because they have good memories of class and being with you," Ward said. "So, that an impact. When you see the people that you taught have become responsible adults, have their own families, and now you're teaching their kids."
After a year long break, Ward may be seen around the halls of Lovejoy High once again.
"[Teaching] has been such a part of my life and my identity for so long that it's hard for me to picture myself not teaching," Ward said. "My plan, I'm thinking, [is] I'll take a year and kind of see how it goes, and then y'all may see me again because I may be volunteering, wanting to sub, and come back to be around young people."
Whether Ward returns or not, her last class, the class of 2020, can look forward to seeing her bubbly, energetic face at graduation
"I will come see y'all graduate," Ward said. "I will put in on my calendar."
About the Writer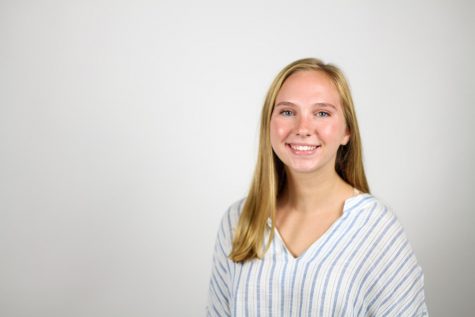 Madeline Sanders, Editor-In-Chief
On her fourth and final year as a member of The Red Ledger, senior Madeline Sanders is thrilled to have her second go-around as Editor-In-Chief with the...