A cappella group performs student-arranged piece on Good Morning Texas
Many children often dream of being able to belt their favorite lyrics on television in front of millions and recently the choir's a cappella group was able to do just that, performing on WFAA's "Good Morning Texas".
Performing "Demons" by Imagine Dragons, the choir sung an arrangement of the song by senior Nate Thorley.
"I'd guess that the entire process [of arranging the song] took about a month. The trick is to listen to the song over and over, while paying close attention to what is happening in the background," said Thorley, "I'm able to pick up what chords and passing tones are going on, and, pretty soon, you've got a 4 part harmony. The hardest part is probably deciding which parts of the song fit each specific range of singers."
After the song was arranged, and the piece practiced, the performance went quite smoothly.
    "It was definitely exciting, it was cool seeing how the studio actually looked compared to have it seems on televisions," sophomore a cappella member Ben Meaders said.
This honor of performing on television involved quite a bit I work on the students' part.
"We found out, I believe, the week before spring break and we started working on the song a week before we found out," senior Erin Shefranek said, "we had around 4 to 5 rehearsals."
However, their work paid off during their performance.
"We were incredibly happy with the performance," Shefrenek said, "we were all so excited to have the opportunity to perform on television that we were all on an adrenaline rush."
About the Contributor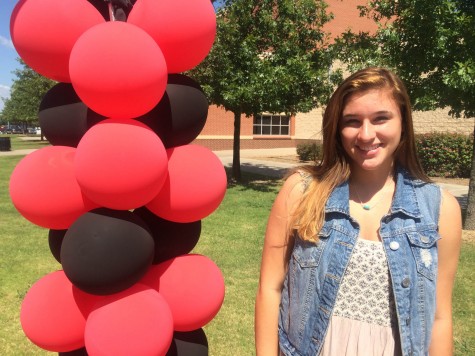 Michelle Stoddart, Managing Editor
Michelle is a junior who is deeply involved in activities both in the school and out of the school. As Captain of Extemporaneous speaking for the Debate...