Theatre's 'All in the Timing' hits the stage tonight
The theater department is putting on the play "All in the Timing" tonight and tomorrow night at 7 p.m. in the high school auditorium. "All in the Timing" is a sextet of one-act comedies written by playwright David Ives.
"I feel like we'll all come together," said sophomore actress Audrey Bolen. "It's a fun show. It's a great show. I got to direct a scene, so I'm really excited to watch that. In general, [you make sure] you get enough sleep for rehearsals at night, [learn] your lines at the correct timing and [mark] your scripts so you have your acting moments solidified."
Because the department has more girls than boys, most girls could only be in one scene while some guys got to be in three. To make up for the imbalance in roles, the ladies got to direct at least one scene each.
"I'm spending a lot of extra time on [directing] because it's really complicated," sophomore director Clare Christenson said. "We're coming early to do extra rehearsal so that we can get everything done, all the lighting cues recorded, stuff like that."
The cast and crew have been preparing for opening night by having rehearsals before school for the past month. For tech week, the week before the play opens, they have after-school rehearsals until 8 p.m.
"I'm just excited to see it all come together," Christenson said. "We're finally starting to run through everything. Before now, everyone's been separate working on their own scenes, but we're coming together as a company to make this whole end product. For my scene that I'm in, I'm mostly just working on my character choices and making sure [my lines are] super memorized and stuff."
In the days leading up to the play, the theater department is pulling the final strings to set the production in motion. Students come in before school, after school and sometimes in their free time to work on the play.
"I think that it'll go better than we think it will," Christenson said. "We always manage to pull it together because we always push super hard in the days leading up to it, so it ends up being a good show. Honestly, I just want [the audience] to enjoy it. A lot of the scenes are comedic, so I want them to be laughing during the show and just [be] very locked in."
Senior set director Elizabeth Esposito comes in every day during Leopard Time to finish up anything that needs to get done.
"Everybody is pretty experienced, so I think it'll be a good show," Esposito said. "I think it'll be pretty interesting to watch. We just have to know our lines and all the tech has to know when to call their cues. All the acting is fairly easy, it's just kind of difficult to get the exact cues and get everything timed perfectly."
Tickets are still available for purchase starting at $10 for adults and $7 for students, adults and seniors.
"The whole theme is about being present," said Esposito. "In the moment. It's all about the timing- part of the name- it's about appreciating where you are now and how it could affect you later."
Leave a Comment
About the Contributors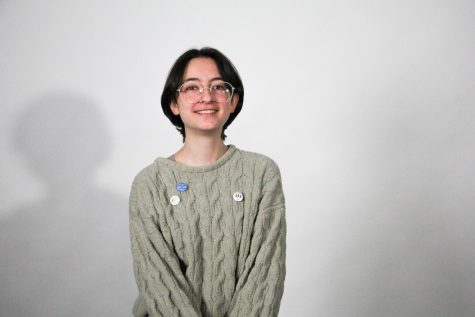 Cora Blasko, Staff Writer
Cora Blasko is in her sophomore year of high school. She loves to dance, draw, read and write. Her top three favorite books are "Percy Jackson," "Felix...
Katy Daugherty, Graphic Designer
Sophomore Katy Daugherty looks forward to beginning her first year on staff! She plays volleyball on the JV team and when she's not in the newsroom,...