Lifetime Achievement award to Beverly Smith
Hang on for a minute...we're trying to find some more stories you might like.
While many students were dancing the night away at prom, with education far from their minds, one teacher was being honored for her excellence in the field. Beverly Smith, geography and AP European history teacher, traveled to Houston this past weekend as a finalist in the lifetime achievement segment of H-E-B's Excellence in Education Awards.
Smith was nominated for the award at the beginning of the year, and was informed that she was a finalist on March 22. The five finalists traveled to Houston on May 4-6 to answer questions for a panel of judges, and on May 6, Beverly Smith was selected as the winner of the H-E-B Lifetime Achievment award for secondary education.
To qualify for the Lifetime Achievement section, a candidate must have at least 25 years of teaching experience. Smith has been teaching for 27 years, 21 in the Plano ISD and the last six in Lovejoy. She has taught a variety of subjects within the social studies department.
"I had Mrs. Smith for 7th grade Texas History and now for European History," junior Laura Pitkin said. "She is a great teacher, and I am really glad I had her both years."
Smith's unique teaching style helps students to learn the material better than they would with traditional styles.
"I like her teaching style, she explains a lot in class and uses examples that make sense to us to really help us remember it," Pitkin said.
All of Mrs. Smith's students were hoping she would win the award, Pitkin said.
"I'm really glad she won the award; I think she really deserves it," Pitkin said.
Smith's coworkers were also glad that she won this prestigious award.
"I think a lot of students are unaware of the personal stories behind their teachers and how and why they are teaching," English department head Kathyrn Pabst said. "I think a lot of students would be surprised by those teachers, and Mrs. Smith would be one of those. We make assumptions sometimes about how and why people choose teaching, and she is one that has chosen education from an altruistic standpoint."
Pabst feels that Smith deserves the award.
"[The Lifetime Award] is to honor someone who has spent an entire career in the educational field and has made significant contributions to students, to the field of education, and to their community," Pabst said. "Mrs. Smith absolutely deserves this award."
Smith was selected from thousands of candidates for this honor, and has won $25,000 for the district and $25,000 for herself. This award validates the work that Smith has been doing for years.
"If I can go to work every day and change the life of a child or do my job to the very best of my ability, I think that's pretty good," Smith said. "Education gets a lot of negative press, but if I come to school every day ready to do my job and send these kids into the future equipped to face whatever they need to, I have done my work."

About the Writer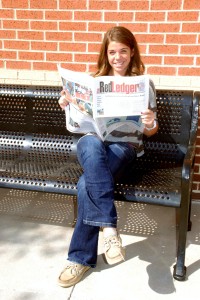 Ginger Hervey, Editor-in-chief
Ginger Hervey cried on her eleventh birthday when she didn't get a Hogwarts letter. If there was an Olympic event for sitting around in sweatpants, eating...