Uplifting the community
Marshal and powerlifting coach protects community
It's almost been a year. A year since Officer Chris Smith had his surgery. 
He was mid squat. The bar on his shoulders, stacked with plates on both sides. When a searing pain rang through his chest, Smith headed to the emergency room to check if it was his heart. That's when on the x-ray something else showed up. His doctor said it could've been that way for seven years. 
"On the x-ray, they could see the hernia which is very uncommon apparently because my stomach doctor, he laughed, whenever I told him they could see it on the chest x-ray," Smith said. "Then after the surgery, he was like he'd be more surprised that they didn't see it on the x-ray."
Smith had a hiatal hernia. His stomach pulled into his chest. He had an idea there was a small one after his endoscopy procedure. If the hernia erupted in his chest, he would've had three hours to live. 
"It's different still," Smith said. "When I would eat before, I didn't actually feel it go down. You know because my stomach was so high it was already processing before. Now, it has to go down the full length of my esophagus to get to my stomach."
Smith had surgery where his doctor cut his hernia and brought it back down, stretching his stomach out to its natural place. After his eight week recovery, Smith is back powerlifting, trying to work his strength back up. His bench was 414, currently it's 365.
"Just appreciate everybody and appreciate the time that you give them," Smith said. "Socialize with everybody; do anything you can to talk to somebody that's available because everybody has something that you can help them with, or they can help you with."
Smith was one of the first Marshals in the district. The first director, a childhood friend of his, encouraged him to take on the security role based on his six year United States Army service where he was stationed in Fort Riley, Kansas.
"[It] is a non deployable post which is a good thing [and] a bad thing," Smith said. "I didn't have to go over, but I got to do a lot of schools and other stuff. I was on the M1A1 tanks, but I drove for a SAR major for most of my time." 
While in the Army, Smith went to Korea for 13 months. 
"That was pretty cool to be in a different country and learn a different culture," Smith said. "It actually kind of pushed me into traveling. I travel a lot of different places: Germany [and] Columbia, a lot of different places just to see how they live. I don't stay in resorts. I find a good place where it's locals."
With Casey Littlefield's help, they grew the Marshal program to what it is today. Littlefield and Smith met back in 2018 in August heading to the school's martial training together in Abilene; they were hired around the same time.
"The really great thing about the school's marshal program is that the community and our administration backs us which is a huge benefit in this industry," Littlefield said. "You have to have the support to have the freedom to process and grow and do the things that you need to do to get bigger and better as an organization. We've been given that freedom."
In 2020, Littlefield took the lead on the Marshal program in the district. When he was assigning captains, he made Smith the Captain of Parent and Community Engagement. Smith also does event management for the Marshals.
"Where we saw that [Chris] was a benefit and asset for us was his ability to engage the community and grow that partnership with our community and parents," Littlefield said. "Chris is a very unique person. I think he can be serious when it needs to be. Overall, when I think about Chris, he's a guy that's going to be laughing and having a good time and enjoying the moment. I'm happy that he's here, and he's able to continue to be a part of our team."
Smith works at Hart Elementary during the day until he heads over to the high school for 8th period where he switches focus to powerlifting mode, coaching in total 27 student athletes.
"Everything is injury free, proper form," Smith said. "We work on doing the movements exactly. The accessories we do all focus on the major part of building that certain muscle for that certain lift. We do squats; we have accessories that help out with the core, so you can stabilize the weight."
Instead of front loading students' muscles in training, Smith works on their posterior chain and the anterior chain.
"You end up getting stronger powerlifters, but everything has to do with the anatomy," Smith said. "We focus on what muscles are working during each lift, three core lifts you work a lot of muscles together. If they understand how the anatomy works, then they understand why they have to do it a certain way. It helps out."
On school days, Smith wakes up at 3 a.m. and is at the gym by 4 a.m. He arrives at Hart at 6:30 a.m. and stays there until around 3:30 p.m. Then at 4:20 p.m. the powerlifters join, and they work until the last sports show up.
"Since they're in other sports, we focus on not overloading them, getting them stronger," Smith said. "Not overloading weight on them, so we don't injure them for their main sport they're playing. They still come and compete with me as part of the mix."
Powerlifter Paige Young began lifting with Smith last April.
"I'd describe him as a second dad," Young said. "I've only known him since the spring, but he's known my sisters for a while because he used to work at Lovejoy Elementary. He's my family. I really feel like I can tell him anything. He helps me out. I'll have a really crappy day at school. Then I go to powerlifting, and all of a sudden, I'm in a great mood. It makes my day everyday to walk in there and give him a high five. The energy's just insane. Everyone's so supportive."
Smith's wife also works in the district as a fourth grade math teacher, and his two kids attend the high school, one's a freshman and the other's a sophomore.
"I always tell everybody all of these [students] are my babies," Smith said. "Just being able to help the kids do the right thing. The marshal part, you never turn it off, it's 24 hours a day. You don't get a chance to not be a marshal. I'm always on, not even thinking about if I have to be at school or if I have to be at home. I have to protect them all 24/7. This [powerlifting] is my good deed for the kids because I enjoy it so much, and I enjoy seeing them progress and seeing the confidence of the kids go up."
Leave a Comment
About the Writer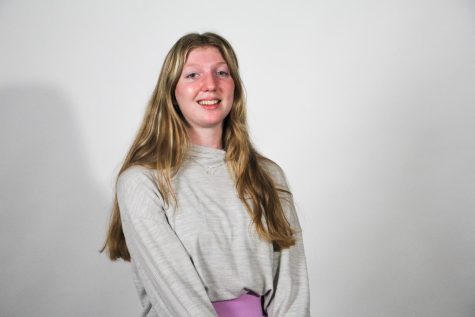 Calla Patino, Editor-In-Chief
Strolling into her third year on staff, senior Calla Patino is ecstatic to be back in the newsroom as an Editor-In-Chief, leaving her summer days of folding...