Column: Fell in 'Love on Tour'
TRL's Margo Friloux shares her experience at Harry Styles' concert
The lights turn back on; everything goes silent. Muffled voices. Feathers everywhere. Teary yet joyful faces flood out of the arena. The night we had all been dreaming of for years, Harry Styles' "Love on Tour," was over. 
"What just happened?" "That was a fever dream." "That wasn't real." "Is he even real?"
I've been a Harry Styles fan since I was eight years old. All through One Direction and onto his solo career, Styles has always been my favorite artist. During quarantine, I made a 20 page presentation for my parents attempting to convince them to buy Styles tickets. I was willing to travel anywhere in the world to see this man perform. They were not budging. But in April of last year, my parents surprised me with tickets for Styles' newly released concert in Austin. 
Sept. 25 was the night I had been impatiently waiting for my whole life. My friends and I were sitting antsily as our adrenaline pumped through our blood. Singing and dancing to One Direction's "Best Song Ever" and Queen's "Bohemian Rhapsody" with 20,000 other people. 
The lights faded. This was the moment I had been waiting for since 2013. The band walks out. Mitch, Sarah, Elin, Pauli, Ny and Niji. Then, Harry Styles appears center stage. There I was "living in a daydream."
Styles' setlist for the show was superb. His current tour is for his album "Fine Line," but Styles released a new album last May titled "Harry's House." He did a wonderful job at mixing and including the songs that the fans love from both of the albums as well as a few songs from his self-titled debut album released in 2017. 
He incorporated upbeat fan favorites from "Harry's House," such as "Daydreaming," "Keep Driving," "Satellite," "As it Was" and "Music for a Sushi Restaurant." He transitioned into the slow-paced "Love of my Life," "Little Freak" and "Matilda" which brought many people to tears. 
One critique I would give to Styles is to incorporate more fan favorite songs rather than the "most popular," and the ones that are terribly overplayed on the radio. It would have been nice to hear songs like "Carolina," "Two Ghosts" or "Fine Line" which are all songs that mean a lot to his fans. He could have replaced "Watermelon Sugar" or "Adore You" with any of those songs. But I will say, the way he performed "Watermelon Sugar" and "Adore You" did make up for the loss of some of my favorite songs.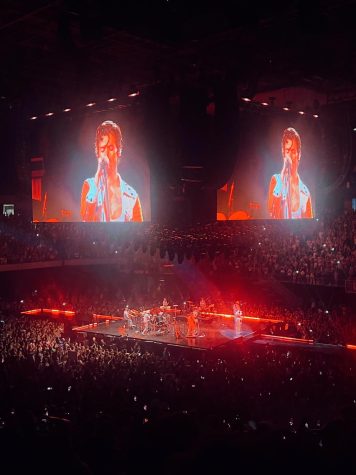 Styles threw it back for all of us and sang One Direction's first hit, "What Makes You Beautiful." One of my favorite aspects of this song was how he switched up the rhythm and melody to make it his own. Styles finished off the show with the famous "Sign of the Times" and "Kiwi," both from his first album. "Sign of the Times" will always bring me to tears. "Kiwi" is an upbeat mix of rock and pop, and Styles puts on a show when he performs this song. He ended "Kiwi" with an act called "the whale" which he started doing during his One Direction days. It is a full circle moment, and a perfect way to end the show.
Harry Styles and fashion go hand in hand. I was very scared about his outfit for the concert because his stylist, Harry Lambert, had recently been not meeting expectations. But he started off his six shows in Austin with a bang. Styles wore burnt orange pants and a jacket set with maroon fringe on the back and sleeves. Let me tell you, Harry Lambert redeemed himself with this outfit. I love the way he incorporated the University of Texas and Texas A&M colors into his outfit, and many fans commented on how this outfit resembled UT's marching band uniforms. 
Another aspect of Styles' concerts that I love is his interaction with the fans. At my concert, Styles had a conversation with a fan about her sign asking him for relationship advice. Many fans like to throw hats, sunglasses or homemade items to Styles while he is performing. During the show, fans threw multiple hats that they crochetted themselves, and Styles put them in a basket on stage to take them home. I love how much he displays his appreciation for his fans. He is very personable with them and ensures that they are enjoying the concert. 
Overall, this was an experience that I will never forget. Harry Styles is not only an amazing singer, but he is also a great performer. He will run around dancing on stage, splash water on fans and try on hats, glasses and boas that fans will throw to him. Even if you don't know his music that well, it would still be an unforgettable experience. Styles creates a happy and joyful atmosphere that you will fall in love with. I've already begun crafting a new 20 page slideshow to convince my parents to allow me to go see Styles again. 
Sept. 25 will be a night that I will hold on to for the rest of my life. Everyone, including me, in that arena felt at home in "Harry's house."
View Comments (1)
About the Contributor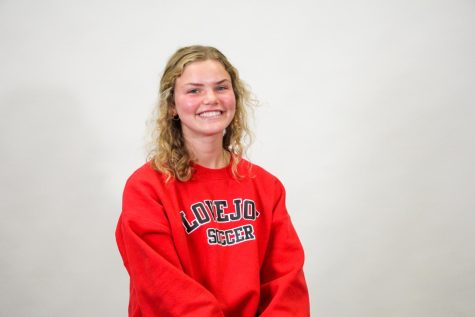 Margo Friloux, Section Editor
Entering her final year on staff, Margo is excited to work with her Co-Sports Editor and Leopard Life alum, Will Doig. This year is bittersweet to Friloux....