Natural connection
Senior receives nomination for US Presidential Scholar in Arts award
The tarp flat against the dead grass of early January is covered in a layer of splattered paint. Mixed colors of robin's eggs, oak trees, daffodils and ladybugs mush together as Ella Reaugh becomes her paintbrush and canvas while she rolls around on the tarp. When she stands in her once white jumpsuit with a smile across her face, the mural of paint drips downward and is captured in a photo. 
Ella participated in the YoungArts camp January 9-15 where she received a nomination for the US Presidential Scholar in the Arts award. Every year 60 students in the county are nominated.
"It was really exciting," Reaugh said. "I didn't think I was gonna get it because I was nominated through YoungArts. I went to this camp for a week. There were 17 artists from around the nation. Everyone was crazy good. I really didn't think I was going to be nominated because there's so many cool people."
Ella is working on her application which will be reviewed by the White House Commission on Presidential Scholars. They will choose 20 high school senior applicants to be presidential scholars in the country.
"When you're nominated, now I'm eligible to apply," Ella said. "It's five essays. You have to fill out all the activities you do, like the awards you've won and extracurriculars. You have to write the essays. You have to give background information on yourself, like your birthday, but it's mostly the essays and then activities and community service that sort of thing."
During the YoungArts camp, Ella was interviewed for the Presidential Scholar award, with the combination of her art portfolio that she sent to the panelists at the camp. This was Ella's first time attending the YoungArts camp.
"I grew the most probably last year, my first year of AP because AP here is super intense," Ella said. "It's incredible, but it's a lot of work. Especially, when I created my body of work last year, that pushed me a lot. It's trying new media and having to work with time management that pushes you and your work as you figure out what you can do within a limited period of time. Even from the YoungArts camp, I've just gained confidence and that's always helpful whenever you're making work."
The online YoungArts camp sent her a box of art supplies for the different zoom classes in the camp. 
"The 70 artists were from all over the country, but we created an Instagram group chat," Ella said. "We talk all the time, and we're all friends now. We l post each other's Instagram posts on our stories. I created a bunch of new friends and like a little community of artists. That's probably the best experience."
Pre AP Art 1, Pre AP Art 2, AP 2D Design and AP Drawing teacher, Brice McCasland, has taught Ella since her freshman year.
"Ella has grown into a phenomenal leader for our program," McCasland said. "She is honest, open and authentic. I think Ella will always push herself very hard. Not just to meet people's expectations but because she's never going to meet her own. She always has a higher expectation of herself than other people. I love that it's never enough. She's never negative about it. If she doesn't achieve what she wants, she's strong enough to go and try to get it. She doesn't give up."
Ella won four gold keys and two silver keys for Scholastic Art and Writing. Her art journey began in middle school.
"In AP we have to create a stain investigation," Ella said. "This means you have to come up with a question that you're answering through your work. Last year, I would create these installations in a forest and burden the trees as a way of transferring my personal weight onto the trees. Coming up with that stain investigation was probably the hardest thing I had to do. That body of work is what got me some awards."
Ella's friend Karlee Williams, who also won gold keys for her art, shares her thoughts on her friend's accomplishment.
"I think that's amazing, and it really shows that her work is personal and special to her," Williams said. "Other people can see it. She's very respected in everything that she does because she puts all of her heart into whatever she does like art in school and her family."
Traces of her love of nature scatter throughout her work. Ella posts her work, which on average takes about 20 hours each piece, on Instagram at @ellareaughart.
"She did a pin piece," McCasland said. "It had all these birds, and it was in a circular format. It was really the first time that, I mean she always made good work, but it's the first time that I saw her really light up about what she had made. It was like the work really mattered to her. I think it was because it would kind of overlap with her love of nature."
If Ella is picked for the US Presidential Scholar of the Arts award, she will receive scholarship money as well as participate in another zoom camp where she will meet the President.
"It's an outlet for me," Ella said. "Everyone has an outlet. It's just in your bones. I don't know why I do it [create art], I just have to do it like surfing."
Leave a Comment
About the Writer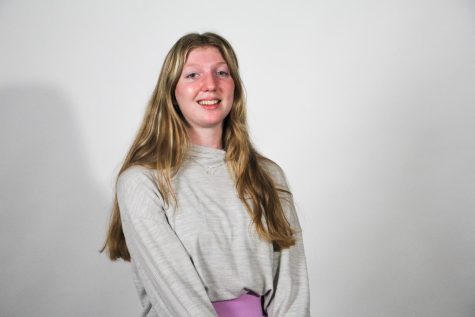 Calla Patino, Editor-In-Chief
Strolling into her third year on staff, senior Calla Patino is ecstatic to be back in the newsroom as an Editor-In-Chief, leaving her summer days of folding...