Column: Walking the life of Vincent Van Gogh
TRL's Campbell Lester shares her experience at Vincent Van Gogh exhibit
If you asked random people what they know about Vincent Van Gogh, they'd say many things. He was an artist; he lived in a yellow house; he loved sunflowers; he cut off his ear; he went to an asylum; he painted "The Starry Night," and he committed suicide. All of these facts are true, but they only begin to reveal the outline of a tragic story behind the existence of a man who remains one of the central figures in western art. Van Gogh may have been insane, but his insanity is what made him truly brilliant.
The Immersive Van Gogh Experience is an exhibit that moves around the country, but it's currently held in the Lighthouse ArtSpace in Dallas. The exhibit has three rooms, all of which have 360-degree projections of his work on 15,000-foot screens and stretch from floor to ceiling with larger-than-life re-creations. The purpose of the Immersive Van Gogh Experience is to expedite what the act of creation felt like for Van Gogh as he painted over 2,000 works of art in his lifetime, including the 900 oil paintings in which his reputation rests.
As I walk into the museum, I feel as if I am stepping into a painting. I take a seat, and I'm instantly drawn into a world like no other. The unique combination of music, art and technology creates a perfect setting to communicate his passion for art. Vibrant colors cover the floor to the wall-screens that move as if the painting is alive. From a train traveling across the countryside to the stars twinkling on a dark, starry night, every painting tells its story through the power of cinematography.
As the show continues, it becomes apparent Van Gogh is using the canvas to tell a story that he cannot say with words. There is one moment in particular where I feel as if I am falling down a rabbit hole of madness, just like Van Gogh did when he couldn't control his craziness. The screen shows darkness and a face surrounded by flies. The music creates an overwhelming buzzing sensation, and you can't help but retreat into your own mind.
After the craziness comes a sense of relief. A warm sun rises over a yellow wheatfield creating peace like a calm after a storm. Wheatfields are where Van Gogh felt he could escape the ever-present insanity of his mind, and it was displayed perfectly. Van Gogh could truly communicate his deepest feelings with a stroke of a brush. The choice of music in the exhibit was the final touch to create a painfully empathetic atmosphere of his feelings.
Eventually, the screen fades to a dark night. A singular brushstroke leaves behind a section of blue color. More and more are added until a beautiful night sky and dusk landscape show. Then, a star breaks through the darkness like an epiphany. The whole sky fills with stars of all shapes and sizes creating his most famous painting, "The Starry Night." It is one of the most recognizable pieces of art in the world because of its ability to connect with people through its timeless and universal beauty. It shows that even the darkest night can be bright with stars.
The Starry Night is a story in itself. Van Gogh painted it during his stay in an asylum. He was suffering from heavy depression as he painted it, and the painting conveys some of his deepest feelings. He went back to darker colors similar to those at the beginning of his career instead of vibrant, warm colors. The town is a dusk contrast to the bright stars which makes the painting feel very dreamlike. Many believe that he painted his view from the asylum, but it was created simply from his mind. A famous quote from Van Gogh demonstrates his true artistic mind, "I dream my painting, and then I paint my dream." 
As the show ends, it finishes with a great finale. A screen full of lively, colorful flowers multiply across the screen continuously. Then, the energetic landscape transforms into a single self portrait of himself. He wears a simple, straw hat with candles on top, a testament to his devotion for his work. He would work all night if it meant a chance to express his thoughts. 
Van Gogh left a legacy like no other and his work is an inspiration for millions. Within a decade of his tragic death, he was a highly esteemed artist known worldwide. The creator of the experience, Massimiliano Sicardi, leaves us with this statement, "The lasting power of his work is that we are witnesses to a life filled with passion and unstoppable desire and we abandon ourselves into this timeless beauty." The Van Gogh experience was an opportunity to step into the shoes of a man whose crazy, brilliant talent was also the reason for his death. 
Leave a Comment
About the Writer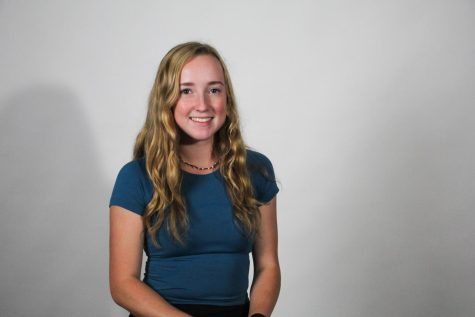 Campbell Lester, Section Editor
Campbell Lester is back and ready for her second year on staff, especially now as News Editor. After making it successfully through her first year in high...