Friendly neighborhood clinic
Student helps parents open new branch of franchise
Resting in the entryway are boxes the size of a sideways rocking chair to a simple tea pot, ready for transport to their new clinic home, Anodyne: Pain and Wellness Center of Allen. For a year, Stephanie and Jason Hertweck prepared for the opening of their clinic franchise, which included stacks of legal papers. The whole process was a learning curve as their nurses and doctors helped them with the little things such as finding someone to dispose of the sharp disposal containers.
The Hertwecks are having a grand opening for Anodyne Thursday, Feb. 17 from 4-6 p.m. The KSDS 96.3 radio station is coming, and they will have games, prizes and local food.
"We just wanted to do something that would help people and the community," Stephanie said. "Everything is under one roof. It's a one stop shop."
Anodyne is a non-opioid and non-surgical medical care and pain management clinic. There are a variety of conditions and disorders they treat such as back pain, sports injuries, hip and knee pain, diabetes and many more. They have multiple treatments in the medical, physical therapy, chiropractic, therapy and functional medicine departments.
"If you have chronic pain, you don't want surgery [and] you don't want to be stuck on painkillers," Stephanie said. "This is a way to treat the problem, not just mask it."
After Jason lost his job in the oil and gas business in Dallas, their family searched for a franchise they would want to open nearby. That's when Jason received a call.
"Well, give your top five interests, and we said pets," Stephanie said. "He's like 'anything medical', and we're like 'no nothing medical. We don't know anything medical. We are not medical professional people.' He's like 'I want you to take a look at this. I want you to listen to what the people have to say.' We're like, 'this is pretty awesome.' Once you pay the franchise fee, then they give you a guideline of what to do next."
Even though Jason doesn't work in the engineering operations and executive management side of the oil and gas industry anymore, his 27 years left him with skills in planning, budgeting, cost estimating and streamline operations. These have proven useful in starting up the Allen branch of Anodyne. 
"I've been in a service role where I delivered products and wells to the production department," Jason said. "They would then take that asset and use it, so I was given specific details of what they wanted. I would have to deliver that to them. It's a customer oriented role, so it should help me transition into a business with customer focus where at the end of the day it's all about the patient. Did they get the treatments they needed? Did they get treated like they deserve? At the end of the day did we make them happy? Did we make them better?"
Their first customer is Jason. He has chronic lower back pain and talked with their doctors to figure out what might be the problem. 
"I never wanted to take any kind of medication to solve the problem," Jason said. "I wanted to find different ways to achieve a pain free existence without being reliant on medication that may change my outlook. I'm going to get on a program with the chiropractor, probably use decompression and traction to help. They think I have a bulging disk. We're gonna use that to see if I can relieve the pain from that bulging disk, so I can get back to doing a lot of the things I want to do."
"
"I think it's positively impacted our family. I've spent more time with my dad more than when he was gone working.""
— Hannah Hertweck
They still have work to complete before their grand opening. Their answering machine will be installed next week, and the following week they will get all of their tables. Anodyne didn't just hit close to Jason but to Stephine too.
"I've already had back surgery, so it's one of those things where I would have preferred to have not had to have had those surgeries," Stephanie said. "Everybody has pain. It's just the level of pain that you can tolerate."
They plan on marketing with sports physicals for the school and Allen as well as through Facebook. They will also be working with the softball program. 
"We're getting there," Stephanie said. "I just can't wait to open and get this all going. I'm ready. I'm done with all this guessing work. It's a long journey."
Stephanie was a teacher for 10 years and has been a stay at home mom for the past 16 years. She began working for the clinic Jan. 3. 
"It's hectic," Stephanie said. "My first weekend and I'm like, 'oh I have to actually go to the grocery store and do laundry.' I don't have any downtime, but it's gonna be good. I'm ready to be involved in something else because the kids don't need me as much anymore."
Hannah and her brother Brock Hertweck will help work in the clinic once it's open, but as for now they help around the house. They will write handwritten notes for the patients. The family business will be handed down to Hannah and Brock.
"They once talked about me taking vitals coming in and doing all that kind of stuff with the patient," Hannah said. "I [will] probably do, 'oh hannah go grab me this'. I go run and grab that. Probably clean up after them all like disinfecting."
The Hertwecks prepare to open another center 10 to 20 miles away once this one takes off. 
"I think it's positively impacted our family," Hannah said. "I've spent more time with my dad more than when he was gone working. They definitely do still work a lot, but I do see my dad more. It's a lot less stress on him a different kind."
The Hertwecks will be doing everything non-medical as they leave the medicine for the professionals on their staff: chiropractor Dr. Tamara Finch, physical medicine and rehabilitation Dr. Eric Ray and family nurse Bridgett Anderson-Wright. Dr. Finch will also be handling physical therapy until they hire a physical therapist. For more information about Anodyne, visit their website. 
"This role lets me get directly involved with the community I live in," Jason said. "I think there is going to be a lot more personal satisfaction about what I do everyday. We're making a direct impact on the lives of the people we are employing. Hopefully, I can provide them with work experience they really enjoy like coming to work everyday that helps us make a difference in a lot of people's lives and the local community."
Leave a Comment
About the Contributor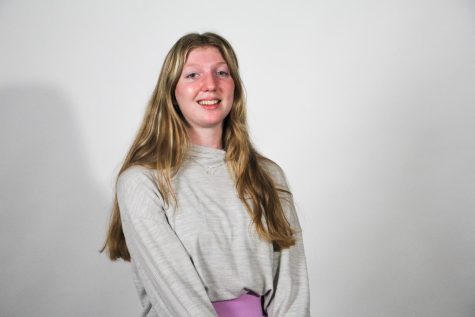 Calla Patino, Editor-In-Chief
Strolling into her third year on staff, senior Calla Patino is ecstatic to be back in the newsroom as an Editor-In-Chief, leaving her summer days of folding...