Creative outlet
Sandi Caston sells handmade gem jewelry at Third Monday Trade market
The sun reflects off the silver trailer as they back into their covered gravel spot. They pop open the sides as the "Silver Jewelry" signs fall. Next to their trailer on two to three tables, Sandi Caston lays out the vibrant rocks and crystals she's found by rivers and lakes in Mississippi, Arkansas and Texas. Sandi sits at one of her tables, making her sterling silver white jewelry.
While Sandi's husband, Dewanye Caston, works in the trailer, Sandi sells her handmade crystal jewelry and rocks from her tables. Sandi has three stores, Gypsy Seller, where she sells antiques, Silver City USA, where she sells their Navajo Native American jewelry and Sand Castle Gems, where she sells her handmade gem jewelry.
"As a kid, I just loved rocks and shells," Sandi said. "We would go to Galveston, and I would look for shells. After my husband and I started selling jewelry, I'm thinking, 'Well, what can I do with this rock?' I can take a piece of wire, wrap it around it, put a tarp on it and sell it for a necklace."
Sandi joined a club, the Mississippi Gem and Mineral Society, to learn more about the rocks and crystals she finds. Sandi plans to attend a gem show next weekend in Mesquite.
"We have geologists from the different colleges that come and talk to us," Sandi said. "[They] tell us why a Michigan agate has red in it and a Texas agate doesn't have red in it. He explains how it's made. It's all got to do with what's in the ground."
It takes Sandi about two hours to make an appendage and 20 minutes for a bead ring. She splits making her brackets into two pieces.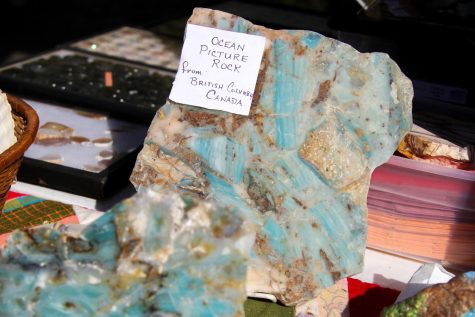 "A really pretty bead then I put wire through it," Sandi said. "I got two ends, and then I wrap about three reps right beside the bead. Then I bring it back around. I can make it any size."
Sandi doesn't make every rock she finds into jewelry, but instead gives them a new purpose.
"When I get a rock that's just a plain brown rock, I paint them," Sandi said. "I like to do the fish because they can be any shape. My candy corn, I've sold almost all of it. I've had a basket of strawberries which is similar shape of the candy corn."
Sandi and Dewanye go to three flea markets a month: Canton Flea Market, the Third Monday's Trade Days and one in Winnie. The Third Monday's Trade Days in McKinney will close permanently after its December market.
"I hate that this thing's going away here though," Sandi said. "It's been an institution for so many years."
Most of Sandi's Navajo Native American jewelry is from the 60s and 70s. They revived the Navajo jewelry from a man that came up to them interested in selling his 85-year-old father's collection from his trading post in Yuma, Ariz. Sandi gave him her card then three years later he came back.
"He says, 'Remember me?' and I go 'No,'" Sandi said. "He said 'well, I'm the one from Arizona and all this,' so I said I kinda do remember. He said 'Well, can you come over? I've got everything laid out and in the back room of the house.' We bought what he had."
Sandi had a dog grooming and showing business, one of the two businesses she had during the time when Dewanye worked as a chemist at NASA. Before Sandi and Dewanye were selling jewelry at flea markets, they were selling antiques and glass.
"I bought our neighbors house [in Canton]," Sandi said. "I decided I wanted to open an antique shop. I used to hang out at my friend's antique store. She would take me to auctions and stuff, so I learned how you buy and what to look for."
When Dewanye retired 22 years ago from NASA, Sandi and Dewanye sold their house and animals and moved into a RV. They tell their customers, 'Come see us at 4500' covered pavilion at Canton Flea Market.
"A lady was out here yesterday handing out flyers locally," Sandi said. "She's gonna open one [Flea market]. It's really hard at first to get one going. I said come back and see me in five years and we'll see, but there's a little one in Tyler or Livingston. We may find something up in Oklahoma. There's a catalog that says find a flea market in the U.S. In a motorhome, we can go anywhere."
Leave a Comment
About the Contributors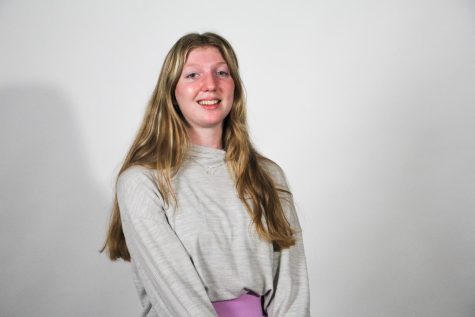 Calla Patino, Editor-In-Chief
Strolling into her third year on staff, senior Calla Patino is ecstatic to be back in the newsroom as an Editor-In-Chief, leaving her summer days of folding...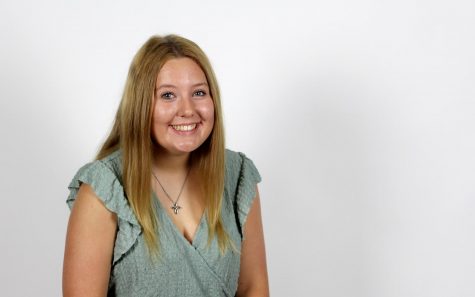 Olivia Lauter, Section Editor
Heading into her fourth and final year in TRL, senior Olivia Lauter could not be more thrilled to soak up every last minute of shooting sports, events...