Review: Starbucks sweetens the holidays
During the most wonderful time of the year, Starbucks introduces several holiday classics  back to its menu. While these drinks are only around for a limited time, they do provide a much needed change of pace for the coffee company. I tried four different holiday drinks to decide which ones meet the holiday standards. 
Caramel Brulée Latte
First, I tried the Caramel Brulée Latte. There are not many differences between this drink and any other caramel latte, but there is a slight nuttiness that comes from the brulee syrup. The brulee bits that are added on top of the drink add a simple toasted treat that comes with a delicious coffee. It may not be the most unique holiday drink, but the Caramel Brulée latte has all of the things you want on a cold winter day.
Rating: 9/10
Peppermint Mocha
Personally, I am not a huge fan of peppermint, but when I tried the Peppermint Mocha, I was pleasantly surprised. The peppermint flavoring was not too overpowering, but instead provided a strong contrast to the chocolatey mocha that Starbucks has year round. This drink is the classic Christmas time candy cane like treat that people long to have. While not the best option for someone who doesn't love peppermint, this drink still fills the role of the staple flavor you can't go wrong with. 
Rating: 7/10
Toasted White Chocolate Mocha
The Toasted White Chocolate Mocha takes a drink that is already loaded with sweetness and manages to add more to it. There is virtually no difference between the original white chocolate mocha and the toasted version besides an increase in sweetener and some red sprinkles on top. Very little of the actual coffee can be tasted in this drink, and it would be better off as a hot chocolate flavor rather than trying to call it coffee. This drink is only around for the holidays, but there is absolutely no creativity to it that makes it worth a try.
Rating: 4/10
Irish Cream Cold Brew
The final drink that I tried was the Irish Cream Cold Brew. This was the only cold drink of the holiday selection that I tried as the local Starbucks was out of the Iced Sugar Cookie Latte. This drink was very mediocre. It had a nice little after taste of chocolate with a hint of vanilla, but it lacked much flavor other than that. Usually, the creams that you can order on top of a coldbrew are packed with flavor, but this was pretty bland and not what one would hope for. I didn't dislike it, but it felt like it had the potential to be so much more. 
Rating: 6/10
Overall, most of Starbucks' holiday selection is not worth carving out time to try. However, if you are looking for something to cheer you up after a long day or warm you up before your day begins, the Caramel Brulée Latte or Peppermint Mocha are sure to do the trick.
Leave a Comment
About the Contributor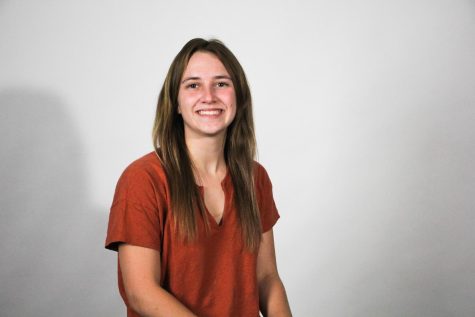 Audrey McCaffity, Section Editor
Beginning her fourth and final year on staff, Audrey McCaffity is more than excited to take on the role of Community Editor. The past four years have been...