Connected through service
District bus drivers Alexander Ingram, Johnny Cana share experiences in Army
Two friends wake up at 5:00 a.m., climb out of bed with their wives to be on their buses by 6:00 a.m. to drive students to school. When Alexander Ingram and Johnny Cana found out they both served in the Army, they instantly became brothers.
Ingram and Cana were in the military around the same time, but they didn't meet until they started driving for the district. Cana served from 1987 to 1990, and Ingram served from 1989 to 1999. Since they were both in service during the threat of communism, they share similar and different experiences as Cana was stationed overseas while Ingram stayed on American soil. 
Standing on the U.S. side of the Berlin Wall, Cana guarded the border with their kibble made humvees. The sound of explosions followed his artillery unit's missions. Their 100 pound bullets tore through German towns. Cana was ready for the Russians to attack as the Cold War was still raging. As his unit was heading to Turkey and Kuwait, Cana was heading home.
"When I got home I felt bad, I wanted to go back to war," Cana said.
Instead, his brother went off to war, so he stayed and went to college. When Cana first arrived home, he couldn't stop calling people civilians. Everyday, Cana has to make his bed. His closet has to be perfect. His shoes have to be clean and shined in order. 
"You're not really scared of anything anymore," Cana said. "I'm so thankful, grateful and blessed."
Ingram wanted to join the military since he was a child, so when he saw red communism was taking over multiple places, he joined the Army. Ingram served with multiple different branches, training at Fort Bragg and Port Sector. 
"I've served with Marine Sniper scale units, National Guard, Army Special Forces [and] Air Force combat controls," Ingram said.
During his training, Ingram learned skills from NCO (Non-commissioned officers) such as Vietnam veterans. This included training to fight the communists until the Desert Storm where it became police keeping and united nations type of missions.
"It's like you're living with your friends," Ingram said. "You're all counting on each other."
Before 2003 and the Invasion of Iraq, no one said 'Thank you for your service.' Ingram and Cana both described feeling "awkward" about being a veteran. When someone on Cana or Ingram's buses say those little words, they are filled with pride. 
Leave a Comment
About the Writer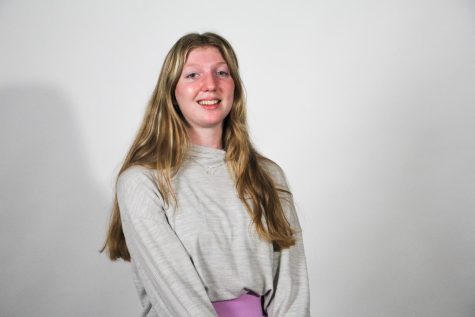 Calla Patino, Editor-In-Chief
Strolling into her third year on staff, senior Calla Patino is ecstatic to be back in the newsroom as an Editor-In-Chief, leaving her summer days of folding...