Bittersweet
Intermediate school principal leaves district
Ray Winkler is sitting on a double edged sword. On one side, a new adventure awaits at Highland Park. On the other, he's cheeky smile and gel-spiked hair will disappear from the wandering fifth and sixth graders everyday life at Sloan Creek Intermediate School. Ray's principal days wearing red, black and white are reaching a close.
"I'll always have a heart for Lovejoy," Ray said. "I'll always be a leopard."
When Ray transitions to Highland Park, he will work as the Director of Academic Support and Curriculum Instruction.
"I'll be working to support campus principals [and] counselors," Ray said. "I'll be working to help the district to support their intervention methods. Much like Lovejoy, it's a small team, and everybody pitches in to support campuses to make sure kids have a great experience there."
Ray worked in the district for a total of 11 years. He was the high school's associate principal and director of fine arts for four years. Then after leaving to two other districts and working as a principal, Ray came back as the principal of Sloan Creek where stayed for seven years.
"I'm sad that I'm leaving the best staff ever assembled in one building over at Sloan Creek," Ray said. "That is an amazing staff of teachers who all love kids and work their heart out everyday to make sure every kid has an experience that is second to none. I'll put that staff up against anyone in the country, and they are fantastic as are every building staff at Lovejoy. I'm really proud of Sloan Creek."
"
I'll certainly look back on this time and know that these are the good old days for me, for sure."
— Ray Winkler
Ray plans to carry over what he's learned from the district to his new position at Highland Park.
"I'm looking forward to learning their culture, but also sharing the things that have worked well here in Lovejoy to create learning for all," Ray said. "We don't track kids. Pre-AP is the standard here, so I'll take what I learned here and try to do what I can."
Ray's wife, Mary Winkler, will continue to work in the district as the assistant orchestra director, and his children will continue to attend school in the district. 
"I think it's bittersweet," Mary said. "I'm happy for him to have a new challenge to take on and make another step towards his end goal of leading a district, but it's sad for us because it's nice to have the whole family in one place."
Ray not only has received support from his family, but his colleagues as well. The superintendent Katie Kordel was one of those people.
"When they offered me the position, it was really hard to pass up," Ray said. "I really agonized over it. Miss Kordel was very supportive and helped me through it. It's never a good time to go, but she was very instrumental in helping me make a good decision on if this was the right time. It's one of those opportunities that probably don't come around very often."
Junior Isabella Iannarelli went to Sloan Creek while Ray was the principal.
"He's very outgoing, and he likes to connect with the people in our school," Iannarelli said. "I remember walking down the hallway and giving him a fist bump. I was super surprised because he remembered my name. When I was in sixth grade, I didn't talk to anyone."
Ray does not have an exact date on when he will fully transition to Highland Park, but he plans to help train the next principal. 
"I'm going to stay on until they hire a new principal and get them all framed up," Ray said. "It won't be in the next few days, that's for sure. That gives me more time to hang out with my amazing kids, love our teachers and connect with our parents."
Even though it's the end of Ray's principal days at the district, he plans to continue to be an active leopard in the community. 
"I deeply love the time that I spent here," Ray said. "Lovejoy has always been a beacon for education in the country and in the state. I am honored to get to be a small part of that. I'll miss that work. It's very mission driven work for me, and I have loved every moment of it. There's not been a moment that I didn't cherish. I'll certainly look back on this time and know that these are the good old days for me, for sure."
Leave a Comment
About the Writer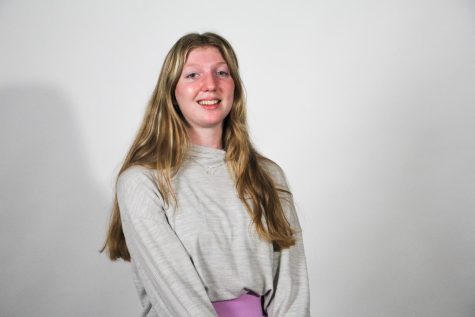 Calla Patino, Editor-In-Chief
Strolling into her third year on staff, senior Calla Patino is ecstatic to be back in the newsroom as an Editor-In-Chief, leaving her summer days of folding...