Emersyn Runions pulls down the see-through, beehive mask, standing in the arena. Her and her opponent lift their epees into en garde. She advances into a lunge, but her opponent dodges the tip of the blade. Back and forth, Runions and her opponent battle until she gets her 15 hits, and takes off the mask victorious.
Runions leaves to Grenoble, France on November 16 for her first fencing Junior World Cup. She will be at the tournament for about a week. 
"I'm really excited because I was in the 14 age group last year," Runions said. "I couldn't go with Cadet because you have to be a certain age. Once I turned 14, then I could get on the flight and go." 
Runions is participating in two events at the world cup cadet women's epee individually and in teams.
"You start out with pools which are six to eight girls in a pool then after pools," Runions said. "All pools get ranked together and that creates the tableau. Teams are each person fences five touches on your team, and you have three people on your team, plus an alternate. You go to 45 [hits] with the other team."
Runions has fenced for four and a half years. She has gone to the Junior Olympics for fencing twice.
"It's exciting because you never know what's gonna happen so you have to be ready for anything," Runions said.
Runions trains with the International Fencers Club of Dallas (IFCD), and when her coach can't come to her away tournaments, the Kaizen Academy coaches her.
"I used to have one main coach, but I've had a lot of coaches over the last year because of COVID and certain clubs shut down," Runions said. "Right now, I have three coaches."  
Runions practices three to four times a week for two hours. She is ranked number 15 and is a part of the national team.
"We train by giving her a private lesson then every time she gets a private lesson we apply a new action or tactics for her," coach Amgad Badawi said. "She goes [to a] tournament. She tries to apply these tactics, and then we'll see how she's doing. Then if she's doing something wrong we have to fix it and go back to the gym."
Runion's main coach, Badawi, supports her in fencing.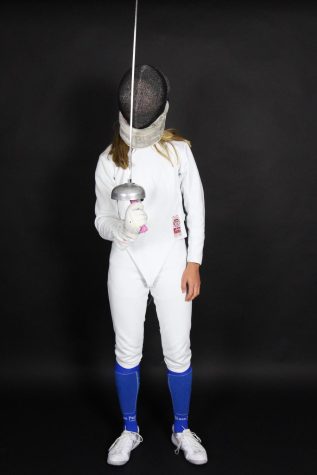 "My first impression is that I hope she does not get stressed or fear from that pressure of the internationals," Badawi said. "She has to be mentally prepared for this. A week before she travels, we have to train her mentally to get this fear out of her mind and focus on her fencing performance."
Outside of the fencing mask, Runions runs on jv cross country and plays the violin.  
"I think it's amazing that she is going to the World Cup," cross country teammate Sydnee Taylor said. "Fencing is such a unique sport that you don't hear about a lot. I think it will be a great opportunity for her. It just goes to show her dedication."
Runions plans to fence in college or Columbia. 
"I did other sports like soccer and softball," Runions said. "I wasn't really good at them, but fencing something just kind of clicked."