Shoes of love
Senior collects shoes for a cause
Approaching her senior year in the summer of 2021, senior Sydnee Taylor chose to give back to others for her year-long senior project. Her passion for running steered her in the direction of shoe donations when researching potential senior project ideas. Her organization of choice, Soles4Souls, collects shoes and clothing to donate to developing nations. The nonprofit creates change by selling donated shoes to nations who are able to support local business owners to resell the shoes at an affordable price within their communities. Soles4Souls benefits people in need, whether that means experiencing homelessness, starting a business, providing for a large family, or working in a dangerous situation. 
Currently in her 6th year of running cross country, Taylor's fondness of the sport inspired her senior project. Taylor's coach, Carly Littlefield, reflected on her impression of Taylor over the years. 
"I've known Sydnee since seventh grade and she's one of the kindest hearted, soft spoken, but also super responsible people that I've ever known," Littlefield said. "She is a team player and wants what's best for others and she'll do anything for anybody, she's a really rare person."
Taylor's coach, Littlefield, and her daughter donated and supported her fundraiser by making a large contribution.
"[We] both went through all of our shoes and gave those. We fostered for about four years," Littlefield said. "We gave quite a few, maybe thirty pairs of shoes. We are still looking for more and always trying to help Sydnee out." 
Littlefield's donation helped kickstart Taylor's project. 
"I think what she is doing is really great and it's cool because in our program we do a thing where people pass down spikes, so it is encouraged," Littlefield said. "I think it's cool that Sydnee has taken that and is doing something that is really going to benefit others." 
Taylor was interested in providing relief to people in poverty. The organization, Soles4Souls supports local economies and businesses by donating shoes for resale in low income communities.
"Because I run I was thinking about the people who may love running but don't get to because they don't have shoes to do so," Taylor said. "And for some people, it's not just running for them, it's having to walk miles to get water and they don't have shoes to do that and it's dangerous for them, so I wanted to help because running has helped me in so many ways. I wanted to hopefully help someone else who needed shoes." 
Her mentor, retired cross country coach Greg Christensen, has given Taylor a lot of advice on her senior project. 
"She approached me this spring about being her mentor for her senior project which was a shoe drive," Christensen said. "We have had runners on the team do similar projects in the past, so I am familiar with what she is facing."
Christensen has known Taylor since she began cross country in middle school. 
"It is a very thoughtful and honorable project she is taking on, and I'm proud of her for her choice," Christensen said.
He also offered suggestions on where she should look for donations. 
"I advised her to reach out to surrounding cross country programs as well as local running stores,"Christensen said. "A lot of times people buy running shoes and either they don't fit right, or they wear them a while and want to trade them in for something else will leave their shoes at the store and there's nothing really the stores can do with them except to return them back to the company, or to donate them for projects like what Sydnee is undertaking for her senior project." 
For Taylor, her love of running is an essential part of her high school experience. Taylor is open to donations for any size of gently used shoes. 
"I have been collecting shoes throughout the summer," Taylor said. "My goal is 100." 
She is confident in exceeding that goal by the end of the year at the rate she is receiving donations. She has asked members of the cross country team to donate old running shoes to her fundraiser. She will then make one large donation to change the lives of the beneficiaries in need. 
"I think it's important for people to have opportunities, whether it's running or running a business," Taylor said.
View Comments (2)
About the Writer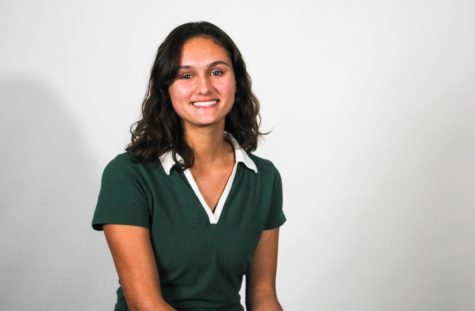 Marisa Green, Staff Writer
Entering her second year on staff, sophomore Marisa Green is excited to get back into writing for TRL. Outside of the newsroom, Green spends her time running...