Pursuing passion
Substitute finds purpose teaching
After her children graduated from high school, Spanish II and III substitute Beatriz Wilkinson wanted to find something to do that she enjoyed.
"When it came to decide what I would love to do after my kids went to college, I said, 'I would want to go back and teach,'" Wilkinson said.
Before moving to the U.S., Wilkinson worked as a dentist in Mexico. At the dental school she attended, the university worked with high school students. Wilkinson taught students various school subjects in rotations. 
"Back in the time, the school was working with little kids and kids your age, high school age, teaching them in the different subjects, like math, Spanish [and] geometry," Wilkinson said. "We did these in rotations that we had in the school. We helped kids around the school and around the university. I really enjoyed that."
After getting married, Wilkinson moved to Georgia, where she worked as a substitute teacher for special-education students.
"When I was a substitute teacher in Georgia, I had a different schedule," Wilkinson said. "Sometimes you work on a day, [and] sometimes you don't have a different schedule. You can start late in the day, or early in the morning. But here, I'm a long-term substitute, so you have to be here a certain time everyday, so this is like a job."
Wilkinson began teaching at the high school in late January as a long-term replacement substitute, teaching Spanish II and Spanish III courses.
"I think my favorite thing about Mrs. Wilkinson is the conversation we had where she stood up and she said, 'Listen, you guys, I understand it can be scary speaking Spanish,' because it's not my native language," sophomore Spanish III student Ellis Smith said. "But she said, 'Sometimes it's scary for me to speak English,' because her native language is Spanish. And so she's like 'We are in the same boat. I believe in you. You guys believe in me, so we can do this together.'"
Wilkinson was substituting for Amanda Vera, who gave birth to twin daughters and was on maternity leave before returning on Monday.
"For the most part, it seems like I haven't been gone," Vera said. "It's been really nice to just jump back in the role, but I have to kind of figure out what was taught and get some of those students caught up, so [coming back was] not overwhelming, more exciting than anything."
Although Wilkinson had experience teaching before, integrating Zoom and virtual students into the classroom was something new.
"I think that she did a great job, considering all the technology she had to learn prior to taking over for me," Vera said. "It was a difficult job for even a seasoned teacher."
Leave a Comment
About the Writer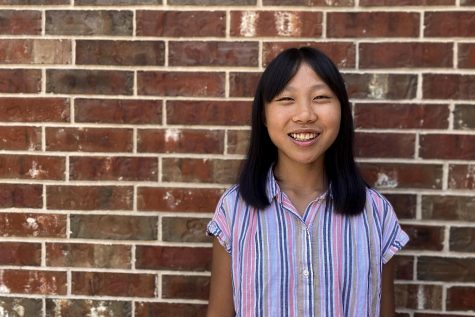 Alissa Chang, Staff Writer
Freshman Alissa Chang is excited to join The Red Ledger as a staff writer. After joining journalism on a whim in seventh grade, Alissa was surprised by...