Senior Goodbye: Someday came fast
I have a little cat ring-holder standing on a tech deck on my desk, and for the past 26 minutes I have been making dead eye contact with it avoiding this empty page. A senior goodbye? That topic seems so loud that it echoed in the clicks of my keyboard as I typed it out. A senior goodbye. 
 I didn't think I would miss this year. Zoom calls and masks and no homecoming week or pep rallies. I hated pep rallies, but I hated not having them even more. Being completely honest I won't miss the disappointments that came stuffed in the magician's sleeve. "Pull this handkerchief and see what happens." Safe to say it was not a fun trick. However, I will miss the time I got to spend growing into my skin.
I spent a lot of time defending myself to people's ideation of me. Don't. If you compare yourself to what other people paint of you, you will always come up short handed. You're allowed to be human. You are so beautiful in all of your mistakes and passions. In your lifetime, the most consistent voice will be yourself, so don't waste your time hating the one person you have so artfully threaded in a suite of life. The best times I had were after I noticed that I am my own safe place. It's funny, though, how the past frames us. How the person we used to be never lets loose of the person we are. How, with time, we learn and grow, but our past failures haunt us like ghosts and our victories visit us like old friends. 
Influence has such a strong effect on life. So often we forget to acknowledge the people we appreciate the most, and they're the ones that help define what so many aspects of being human looks like. My acknowledgments:
To Roman: It's hard to find a place to start, so I will just go with thank you. Thank you for being the most honest person in my life. It has been the best time growing as a person with you by my side. I am so proud of who you have become and watching you thrive in the life you built yourself will forever be something I look forward to. I love you and will forever be grateful to call you a best friend.
To the Clay family: You guys have treated me like one of your own since the day I met y'all. Sam, you are doing so much good for this world, and I cannot wait to watch what comes next for you. Annie, I love you like a sister and am so excited for you to experience the journey that is high school. You're gonna love it.
To Mr. Bart: You gave me something I can never repay and that is perspective. You invited me into your culture, your life. I have never been impacted by a teacher as much as I was by you. You gave me a love to learn again and that's all I could ever ask for, but you gave me so much more. Thank you.
To Jacob: Being friends with you has caused me some problems, but you're the best problem I have. You are so easy to be myself with and that's the only thing I could wish for in a friend. Living life with you will always be a favorite. 
To Mack and Ellie: The moment you invited me to sit at the lunch table blossomed into something I will always adore. I will keep our memories close to my heart. I am so proud of the people y'all are now, and the confidence y'all see in yourselves now. You're gonna have so much fun in this next chapter, and I can't wait to hear all about it. I love you guys.
To Olivia: My beautiful best friend. You mean more than you will ever know, and I am so sad to leave you next year. The progress you have made in your self worth and your confidence these past couple months have been so amazing to watch. You deserve the world, and I can't thank you enough for showing me what having a best friend means. Love you forever and ever.
Lastly, to Mommy: I know it has not been easy, but you are how I define my happiness. Everything I want to become has been modeled by you, and I don't know how I got so lucky. Through my heartbreaks, you showed me what it means to love myself. Through my hurt, you showed me the importance of grace and gratitude. Through my moments of feeling alone, you showed me how to thrive in independence. Through my weaknesses, you showed me how to find strength in problem solving. Through my entire life, you showed me love and what it means to be a good person in a messed up world. You are my soulmate, mr rock, my peace. I am going to miss you so much.
A senior goodbye, huh? I wanted so badly to be the person who sat here and spit out advice I wish I knew before senior year, but I just can't be that person. There are so many things I could say about losing friends and falling in love and out of love and heartbreak and cafeteria food and the charm in first day of school jitters(even when you're a senior). Truth be told, I don't think I have enough under my belt to even be qualified to say anything in the first place, but even so, all of those experiences are so personal. There are so many lessons in everything you go through and so much room for you to grow through the inconsistency of adolescence. Embrace it. Seriously. Because one day you're a freshman and planning for the rest of your life; for someday. And then quietly, without you ever really noticing, someday is today. And then someday is yesterday. And this is just your life now.
Leave a Comment
About the Writer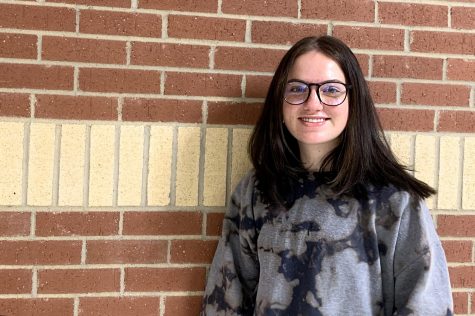 Layla Healey, Staff Writer
Senior Layla Healey is returning for her third year on staff on The Red Ledger as a staff writer. For the past couple months, Layla has spent countless...