Column: In an instant
TRL's Hannah Cole reflects on the year that has passed since the outbreak of COVID-19
March 11, 2020.
I spent that day just like every other day of spring break — spending time with my family, as we had all just gotten back from a vacation to Disneyland and my parents were off work and watching YouTube for hours on end. However, that day was special. That night, we were going to attend the U.S. Women's Soccer game at Toyota Stadium in Frisco. It was one of the inaugural rounds of the SheBelieves Cup, and we were playing Japan's national team. However, I don't remember the soccer most notably from that day. I just remember the differences.
Sitting in my seat, no masks in sight. Waiting in a long line for food, smooshed together like sardines in a can. Not jumping in alarm every time someone coughed or sneezed. Following the developments of this new "coronavirus" in AP Biology before spring break.
March 11, 2020. The day everything changed.
My family and I went to Shark Club Sports Bar and Grill after the game. We were handed menus, no QR codes or disposable versions of the same menu in sight. It wasn't very crowded where we were sitting, given the late hour. The Sacramento Kings game was on one of the larger TVs.
As I bit into my butter chicken, the headline flashed on every screen in the room — "NBA season canceled."
A little girl at the Kings game, I noticed on the TV, was in tears as her father hoisted her over his shoulder, departing the arena with no basketball played. 
My dad, who was sitting on my right, watched as Twitter notified me of the world as we knew it crumbling – NHL season: canceled. MLB season: unknown. March Madness: canceled. Toilet paper: suddenly the hottest commodity.
I went home that night, unaware that I would not be departing my house, save for a trip to Walgreens, to find the last two rolls of toilet paper remaining, for a long, long time. I watched as my spring break was extended by a week, then another, then more, until I attended the last bit of my junior year completely online.
March 2, 2021.
Almost 365 days later, I can scarcely believe I was ever able to be that close to a person outside my immediate household. I notice the little things — how gross my hands feel before a good washing or sanitizing, how a person will take off their mask to sneeze or cough, how close people are standing to me at all times. With the exception of three class periods, I haven't attended school physically for almost an entire year.
As a senior, all of the things I was looking forward to — standing on the bottom of the stands at football games, finally winning a powderpuff championship, seeing which boy in my class would take home Mr. Lovejoy this year, homecoming, prom, graduation — either did not happen or will not be the same this year. 
It's crazy how much everything can change in an instant.
Leave a Comment
About the Writer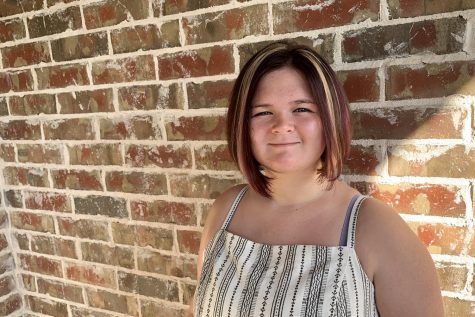 Hannah Cole, Staff Writer
Senior Hannah Cole has wanted to be many things in her life, from an astronaut to a scientist to an entrepreneur. Being a writer for The Red Ledger had...