Review: Repetitive melodies work wonders for Ava Max's 'Heaven and Hell'
Oftentimes, singers and songwriters fall into a somewhat inept habit of recycling similar melodies and lyric structures into songs, hoping to amplify the success the original had brought them. It's most prevalent in music from artists like The Chainsmokers and rapper NF, but it's also an underlying method to reaching stardom sometimes, cranking out hit after hit. By falling into this cycle of creating similar music over and over again, it's difficult to create a "bad song," especially if each one is catchy, dance-worthy and resonates all the necessary aspects of pop music. In her debut album "Heaven & Hell," fringe pop star and singer Ava Max checks off all the boxes you need for a successful pop album. And since each song seems to have the same upbeat disco-like vibe that has found so much success in pop music recently with artists like Dua Lipa and Party Pupils, it's hard to pinpoint any song as bad. It's a great debut album that highlights who Max is as a singer and who she aspires to become. 
A Wisconsin native, Max had always dreamed of becoming a singer, listening to music from her favorite pop icon, Mariah Carey. Max's breakthrough single came in 2018 with her chart-topping hit "Sweet But Psycho," which reached number 10 on Billboard's Top 100 and was the number one song in 22 other countries. "Sweet but Psycho" was the first time many pop-fanatics heard Max, and it's where her fanbase began to grow and strengthen. At first, it's clear that she's trying to replicate the performance style of a mainstream pop icon, but it's not really clear who; her lyric style and overall themes in her songs have been compared to that of Katy Perry, when her career began to skyrocket, yet Max's performance and the stage character she portrays are undeniably like Lady Gaga, complete with bold platinum wigs and disco-worthy pop anthems. Ultimately, "Heaven & Hell" ends up being the best of both worlds, where good pop music meets a unique personality. Perhaps we're witnessing the next great American Popstar rise to worldwide fame.
While no other song has reached the success of "Sweet But Psycho," other songs that have cracked Billboard's top 100 include "King's & Queens," which found wild success through becoming its own TikTok trend in March, bringing Max back to the forefront of pop music amongst teens after a seemingly two-year disappearance from the spotlight. The central theme of feminism shines through this song with lyrics like "queens who are fighting alone." This message continues in "So Am I," and "Salt," with lyrics like "feel like Wonder Woman," where it plays to her perceived audience and fanbase. Each song, while revolving around ideas of female empowerment, being unique and mental health, manages to find success through an upbeat melody that really defines who Max is as a pop artist. 
Despite "Heaven & Hell's" strong message and surprisingly sensational music, it hasn't reached the same success as other iconic pop artists' breakthrough albums such as Taylor Swift's in 2006. None of her songs have reached the same success as her first hit "Sweet but Psycho," and it may be concerning that her relevancy is fading away with TikTok's favorite breakthrough artists Megan Thee Stallion and Dua Lipa topping the charts consistently. Max's music may suffer from its lack of uniqueness because each individual song has striking similarities to one another, which makes mixing up lyrics and melodies unfortunately easy. High hopes have been placed on Max to craft her next big hit, and "Heaven & Hell" is a great debut album to jump start her career, but she needs to be careful not to become America's next big one-hit-wonder. 
Rating: A-
Leave a Comment
About the Contributor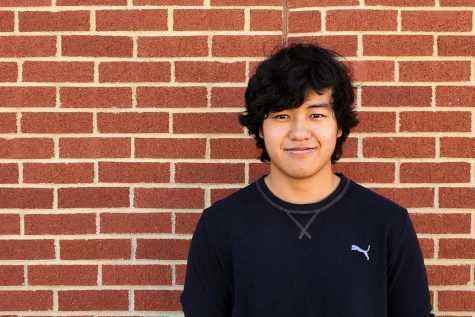 Ryan Wang, Section Editor
They say third time's the charm, but as senior Ryan Wang struggles to write his third (and last) staff bio, he feels anything but charming. Being crowned...