Passion for politics
District mom runs for Fairview Town Council
Editor's Note: TRL has attempted to get in contact with all political candidates running for town council for news coverage. The candidates were reached over the span of several weeks to cover a unique angle of  each candidate running, and TRL does not favor any candidate over another.  
With politics comes dedication. She leaves for hours walking in heat. She knocks on every neighborhood door and talks to every stranger and acquaintance, introducing herself. She explains to them 'I want to listen to [you]' and her mission if elected. She hangs small slips of paper on door handles. A hammer in one hand and a sign in the other- sometimes only using her own strength- she stakes poster boards in yards and main street conners. The large letters of her name shout at the cars that pass 'Jeanette Grazioli.'   
Jeanette is running for the fourth seat on the Fairview Town Council on Nov. 3. The election was planned to occur on May 2, but because of COVID-19, it was postponed. Early voting starts on Oct. 13, and registration to vote for Fairview Council closes Oct. 5.
Jeanette is a part of the planning and zoning commission for Fairview, as well as the Community Resource Group (CRG), where she worked and connected with one of the current councilmen, Roland Feldman. 
"He called me up, and he was like 'we have a seat open that someone is running but they will go unopposed," Jeanette said. "And I was like 'well they can't go unopposed because then [they would] just [be] giving him the seat,' so he asked me if I would run. I was like 'Oh well let me talk to my husband and my family and see.' They were all very supportive, and they encouraged me, so I called Roland Feldman back, and I was like 'hold on.'"
Her mission
There are three seats open: seat two, seat four and seat six. Jeanette is running against Larry Little. 
"I want to listen to the residents of Fairview," Jeanette said. "I want to hear what they have to say. I think for too long, decisions have been made regarding the town and development in the town without, kind of in a vacuum so to speak. And, I don't think the residents have been aware. I think it's very important that the residents have a say in how the town is run…I think it's important to have different opinions." 
Fairview is about 9 square miles; on the west side by the Fairview Town Center, there are businesses that cater to a higher class such as iPic and Aka Hibachi and Sushi. The east side which makes up most of Fairview is residential land. This is where she wants to keep the original zoning (one house on three acres) instead of changing the acreage to one. 
"She's working a lot on not overdeveloping the community right now," daughter and junior Gabby Grazioli said. "There's a lot of development in the Fairview Town Center. Our motto is 'keeping it country.' [Her goal is to] not completely stop development but make it at a more reasonable price and lowering taxes in flood zones."
A problem Fairview is dealing with right now is drainage issues, so Jeanette will have to join Feldman and Cynthia Brugge in finding a solution.  
"
I want to listen to the residents of Fairview. I want to hear what they have to say."
— Jeanette Grazioli
"Due to a lot of the development in homes, all the structures are non pervious, so the water is running away and it's causing some areas to flood," Jeanette said. "Cynthia and Roland and Tony fought to get that put on the agenda. We had our drainage study on the town of Fairview to figure out where the problems were…and repair some drainage paths so that it's directed away from people's homes." 
According to Collin County tax rate history, the tax rate in Fairview spiked in 2007 (0.365000), stayed the same for about three years, and began to lessen slowly to where it is as of 2019 (0.347156). She wants to maintain the same tax rate as the prior year. 
"There's been a group of people for about the last 30 years that have been running," Jeanette said. "They've been in and out of various positions like the EDC and CDC which is commercial development and economic development planning and zoning. Our mayor has been in and out of various positions for 30 years. I think it's important to get fresh voices. I mean, Fairview is growing a lot, and I think it's important that we get new people in there with new ideas."
Jeanette wants to figure out a way for whole neighborhoods to have access to reliable high speed internet. She says 'especially now working from homes and doing school from home.'
"I actually had a guy who lives in Hawkswood, Fairview; he emailed me and asked me what my thoughts were and if I would be an advocate for 'getting some more alternatives for high speed internet out here,'" Jeanette said. "I was like 'absolutely' because I'm one of those people that suffers from poor internet. We luckily were able to get Suddenlink. When Suddenlink works, it's great. When it doesn't work, it's very frustrating; you could have several outages a day."
Preparation
Jeanette has been involved with politics since college and made connections with people through volunteering to help.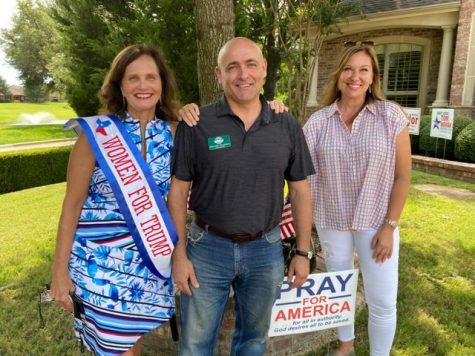 "[I didn't want to go into politics] when I was younger," Jeanette said. "The older I got, the more interested [I was]. I was active in politics when I was in college. I volunteered to work for the governor of Michigan [when I] lived [in] Michigan, and I did some work on his campaign…I also did some work for another senator in Michigan. I also did a lot of work to try and get Cynthia Brugge, Tony Mattei [and Feldman] elected to Fairview Town Council."  
The deadline to file for the election was Feb. 14. In order to prepare for the election, Jeanette has received support and help from her friends. The current councilwoman, Brugge, turned in the paperwork to the town secretary with her. 
"I had to fill out some paperwork, and I got a big thick packet," Jeanette said. "I have to file campaign finance reports, and I've been hosting coffees or get-togethers. I meet people on Heritage Ranch, or I meet people in my neighborhood. Actually, Olivia [Lauter's] mom, Lori…we call her my campaign manager. She is out there helping me. She's knocking doors with me, so it's fun. It's exciting to get out there and feel like you're making a difference."
Family help
Throughout Jeanette's 15 years in Fairview, she has watched the community grow. She was complaining to her children about the way Fairview has been run, so she chose to be 'part of the solution, not part of the problem.'  
"I chose to stop working, stay at home and raise my kids," Jeanette said. "And I think it's a great example to stay home and raise your kids, but I also think being a woman and a mother it's important that I show [my kids] that there's more to me than just carpooling, PTA and Booster Club meetings. I'm leading by example, instead of just telling them what to do and showing them if you are passionate about something, go out and make a change." 
Will Grazioli, Jeanette's eighth-grade son, tries to help out around the house by doing the dishes and laundry. He continues to support his mom while she's running for town council.   
"
I'm leading by example, instead of just telling them what to do and showing them if you are passionate about something, go out and make a change."
— Jeanette Grazioli
"When she seems to enjoy [running], I like to see it, but when she gets stressed and stuff I don't really like it," Will said. "[She gets stressed] usually [over] due dates, being on time, what to say…I usually help make tea or something…and then sit down next to her on the couch and watch a show with her [when she gets stressed]." 
For the past two weeks, Jeanette's campaigning has forced her to approach strangers, so she could convince them to vote for her.    
"It's definitely outside my comfort zone," Jeanette said. "I'm not a very outgoing person like that. I'm good with my group of friends but not to people I don't know, so I guess I've learned a lot about myself. I've grown as a person by doing this. I did things I didn't think I could do."
View Comments (2)
About the Contributor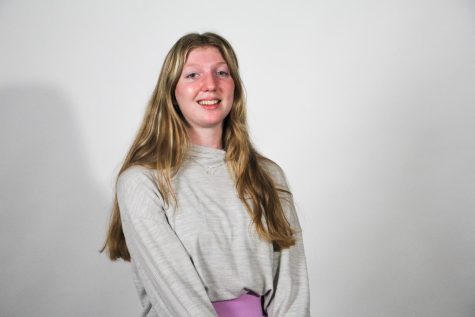 Calla Patino, Editor-In-Chief
Strolling into her third year on staff, senior Calla Patino is ecstatic to be back in the newsroom as an Editor-In-Chief, leaving her summer days of folding...