Column: Crown worthy career
TRL's Ryan Wang reflects on Chadwick Boseman's career
Some people were born with the unique power to change lives with just a rumble of their voice. Some people possess the raw emotional strength to breathe life into stories. Chadwick Boseman was one of those rare individuals who can accomplish both, changing lives through the power of storytelling, one line at a time.
While most acclaimed for his roles of T'Challa in "Black Panther" and Jackie Robinson in "42," I relate to Boseman on a more personal level. In 1995, 18 year old Boseman walked across the stage at the National Speech and Debate Tournament to receive his 8th place trophy in Original Oratory, donning a goofy and smug grin across his face. On a Friday night, Aug. 28, 25 years later, I'm competing in an Original Oratory round at a local tournament when my phone buzzes with a notification from AP news, "Black Panther" star Chadwick Boseman dies of cancer at 43." I fell silent, as the subtle initial shock sinks in slowly. It's the tragic irony of it all, because I had called a friend a few days prior to talk about Boseman, and I explained how he was the pinnacle of the speech and debate alumni, the guy I looked up to. Less than a week later, the world was robbed of an icon in the making. 
We know now that Boseman had an untold secret he kept sheltered from the public: a four year battle against colon cancer that resulted in his death. But when you truly begin to comprehend that he took on physically-demanding projects like "Black Panther" and "21 Bridges" whilst battling cancer, it makes his story that much more inspirational. This isn't just about him making strides within the black community, it's also about his strength and perseverance through it all. And much like Freddie Mercury's battle with AIDS, Boseman's fight with colon cancer sheds light onto the rise of this disease amongst young people.  
Boseman was one of those actors whose acting and presence would speak for itself. Even if the movie itself wouldn't be considered amazing, his performance would be exciting; just his name on the cast list would be enough to haul in audiences. But with talents of his caliber, it's not just the acting that will be remembered, it's the legacy he leaves behind that will be felt decades later. And the demographic he has impacted the most, is his very own. 
Portraying icons like Thurgood Marshall, Jackie Robinson and the king of Wakanda, Boseman essentially flipped the script with black representation in film. He's tackled and conquered topics from discrimination, to systematic racism, to embracing African culture. In "42," Boseman stepped into the cleats of Jackie Robinson, and beautifully portrayed the pent-up anger and resilience felt during the 40's from racial discrimination. In "Black Panther," he was the cover for a defining cultural milestone within Hollywood, where black representation shined within a major motion film, shattering many different stereotypes. And in "Marshall," he co-stars alongside fellow Speech and Debate alumni Josh Gad to highlight the deep-rooted systemic racism within the court system. And you cannot forget that while he was dazzling audiences and telling stories of iconic figures, he never told his own.
Boseman's legacy expands beyond just black representation in film. His untimely death has brought the rising issue of colon cancer amongst young people to the forefront of the medical community. While tragic, his death calls for further research, better screening methods, and improved treatment for this disease. The world mourns when a young talented actor is taken too soon, and it's the same for Boseman. In many ways, he was only getting started in his career, and the excitement and style he brought to Hollywood was truly unique. The greatness of his work and career serve as a source of consolation for all, and we can only imagine what could have been.
About the Writer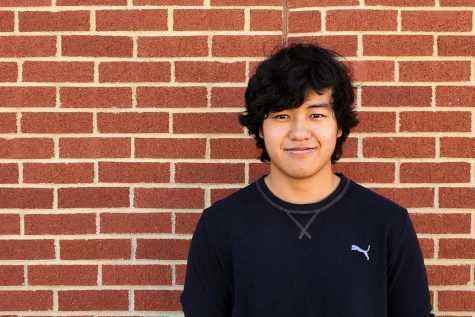 Ryan Wang, Section Editor
They say third time's the charm, but as senior Ryan Wang struggles to write his third (and last) staff bio, he feels anything but charming. Being crowned...