For me, this senior goodbye is the end of an era. This is the end of my contribution to E103, to The Red Ledger, to one of the best online newspaper publications ever. In the four years on this staff, I never memorized the AP Stylebook like Mr. Hale said I should, and I probably didn't retain every Tip Tuesday that Mrs. Adler shared, even though both of my advisers were a huge part of my success and growing in high school. My learning didn't come out of the curriculum. It came through my experiences, the relationships I created, and through a lens.
I came in as a writer to The Red Ledger staff, and as you might be able to tell from this column being my first writing byline, it didn't take me very far.
So, instead I picked up a camera. I set out on my first assignment at the Tom Landry Classic, shot a couple mediocre photos, and went about my life. I had no idea at that moment that the piece of equipment hanging around my neck would be there for some of the greatest lessons I learned in high school.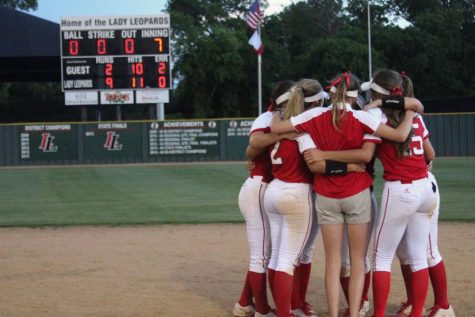 I fell in love with sports photography, and I took on any assignment I could. I took my favorite photo that year at the softball senior night game in April 2017. As a freshman softball athlete, I looked up to those seniors dearly and never wrapped my head around what they meant when they said "it goes by so fast" and "never take this sport for granted." As you might be able to infer, I'll never get that senior night. My time as an athlete was cut short, but I took every opportunity I could and ran with it. I've never been an all-time varsity starter, but I accepted my role on the team and did it to the best of my ability. 
Being an athlete isn't about the stats or how many games you start. It's how you cherish every moment. It's how a sport can change you as a leader, a Christ follower, and a friend. It really is more than just a game.
I won my first ever award my sophomore year: 2018 TAJE Best in Texas Feature Photo, Excellent. I would cherish this award forever because of the sheer amount of happiness I felt for accomplishing something great. That award not only led me to keep creating photos, but it landed me a job as a Sports Photo Creative for The Old Coach this year. My camera traveled with me to every DFW football field imaginable including the Ford Center and even AT&T Stadium, where I shot my last Texas High School football game, which was a bittersweet goodbye. That one award and that one job led me on the path to soon be a journalism major at The University of Oklahoma. 
My junior year I wanted to quit. I felt like I was missing out. I often asked myself if I had to be like everyone else. Do I have to sit in the stands to get the full Friday Night Lights experience? Am I missing moments because I've got this camera around my neck? The answer was always no. The truth is, I got a perspective of high school that nobody else got. I got to see firsthand the emotion, the good, the bad, and everything in between.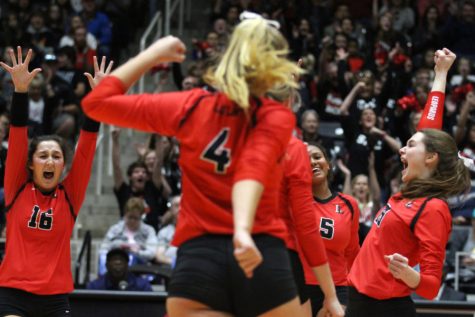 In November of my junior year, I was sent last minute to shoot volleyball's state championship run. Although not the ending Lovejoy wanted, their journey led me to Washington D.C. where I was awarded NSPA Photojournalist of the Year and NSPA Photoslideshow of the Year. It was the most surreal feeling you could imagine as a photojournalist. At the time, I didn't know it would be my last hurrah, but it was the best goodbye and farewell to high school journalism I could ever ask for.
I was never at the front of the jungle during Friday Night Lights, the loudest person in the stands at volleyball's road to state, or the top 10% of the class, but I made my mark. Every person in the student body helped me whether they knew it or not. When I walked into the high school every day with the camera in my hand, there was always something to capture and a story to tell. I have no shame in how I spent my time in high school because my impact will stay with Lovejoy's history for years and years to come.
As I end my last piece for The Red Ledger, I leave you with this. One small moment could monumentally change your four years of high school. Talk to that random person in your math class, dive for that ball in tryouts, or join that club you saw a sign for. You could just find your E103, your second family, your home away from home.The day you step out of your comfort zone is the day you set yourself up to meet people that will change your life, make memories you'll tell your kids one day, and find out just where you belong in this crazy world. Even if it's just on the sidelines.